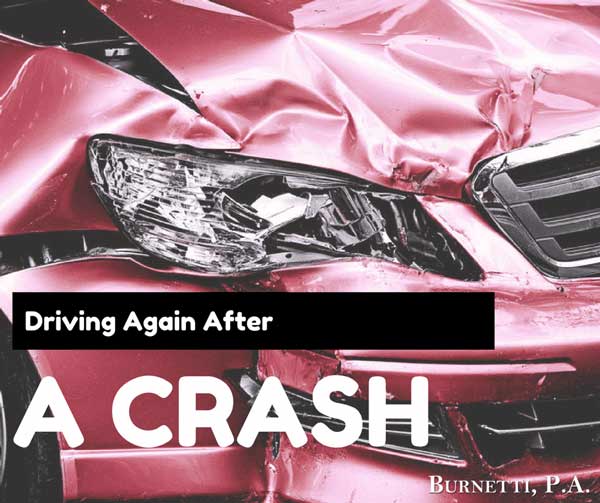 After an accident or traumatic experience, many victims suffer from anxiety and stress. According to counselors, up to thirty percent of people deal with negative psychological responses following severe car crashes. Anxiety is a normal reaction to processing a stressful or painful experience. Drivers, passengers, pedestrians, and even observers can suffer a variety of emotions including pain, worry, anger, confusion, and feelings of helplessness.
Some individuals suffer from flashbacks and may become distressed whenever they are reminded of the circumstances of the accident.
While anxiety is not unusual to experience after a car accident, there are ways to help car crash victims' process and cope so they can continue on with their lives.
Talk About How You Feel – Communicate your feelings to a trusted friend or family member. Try to be constructive with your conversation, focus on how you are healing and the process you have made
Get Behind the Wheel – While some feel shaken up weeks after an accident, avoiding driving can make your anxiety worse. Take a friend with you to help you feel safer and start with a short drive to help you regain your driving confidence.
Don't Avoid the Crash Site – Try your best not to change your routine because you feel nervous about driving by the crash site. You can feed your anxiety, which is counterproductive to recovering.
Take Small Steps – Be patient with yourself. Realize anxiety after a traumatic experience is normal, but take small steps to continue to heal and recover from the incident.
Look After Yourself – Anxiety can cause you to neglect yourself. Focus on doing something you enjoy to help put your mind at ease.
A car accident can be a serious and life-changing event. Every day at Burnetti, P.A. we see the pain and trauma that is caused when someone is careless or negligent behind the wheel, leaving victims with injuries and mounting medical bills. At Burnetti, P.A., clients never have to worry about how they are going to be able to afford a lawyer.
We take cases on a contingency fee basis, so clients can focus on healing physically and mentally from their injuries. If you were injured in a car crash caused by someone's negligence, fill out our free case review form or call (888) 444-8508 to see how our car crash lawyers may be able to help you.