Workers' Compensation Attorneys in Florida
When an accident at work interrupts your daily routine, it can lead to pain, lost wages, uncertainty and stress. Your job is your livelihood; if the negligence of someone else takes that away from you, you may be eligible for compensation in addition to your workers' comp benefits. Injury attorneys can explain these benefits to clients.
If you've sustained an injury at work, workers compensation lawyers may be able to help you obtain work comp benefits, vocational rehabilitation or SSI. Unfortunately, getting hurt or sick is part of life. Most of the time we have no one to blame but ourselves.
However, there are times when someone is to blame, and that is where a Florida workers' comp attorney can help. It's during these times that we look for compensation from the guilty with the help of a workers' compensation attorney. Florida workers' comp law can be complicated. If you are deciding whether or not you have a workers' comp case, read through the following information. It should help.
If you have any questions about Florida workers compensation, call

(888) 444-8508

for a FREE consultation with an experienced Florida workers' comp lawyer. So write your questions down and hold your questions to ask your workers' comp lawyer when you call.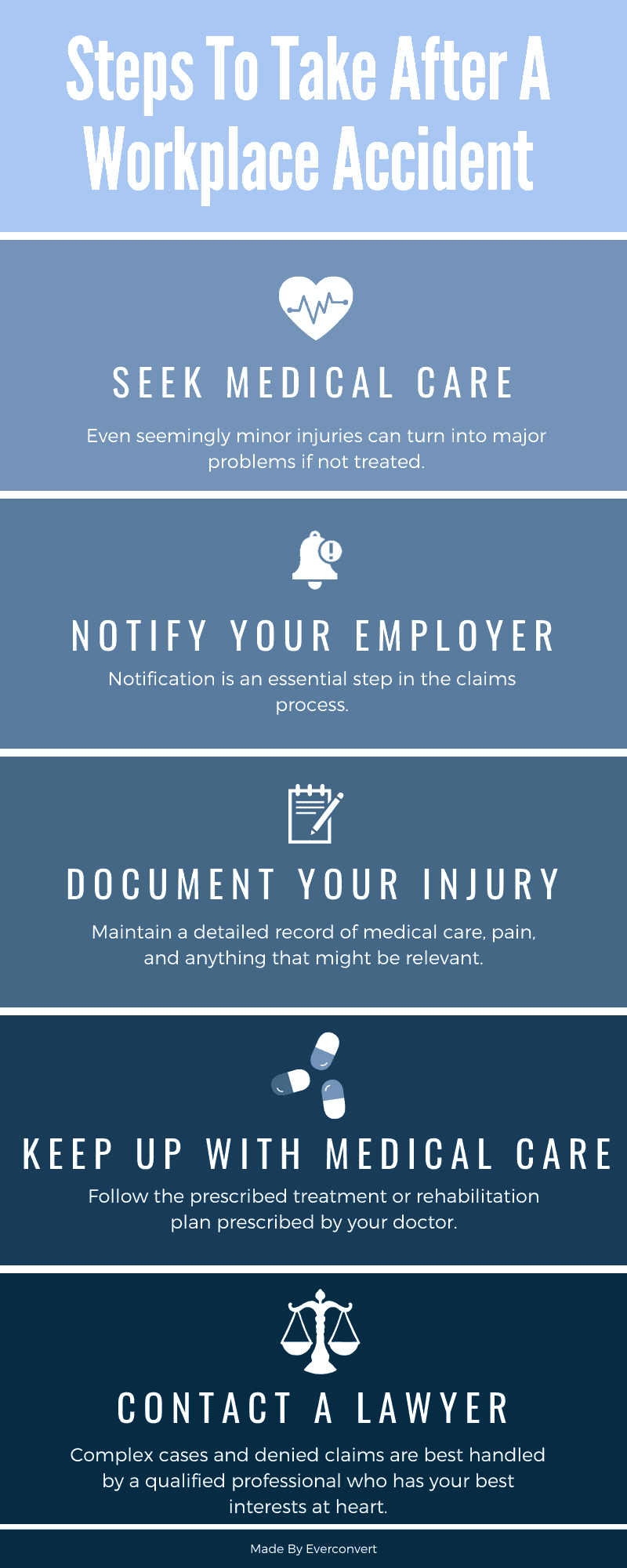 Workers' Compensation Is A No-Fault Insurance
If you have been injured at work in the Tampa, Florida area, you do not have to worry if the injury occurred due to your carelessness. The workers' compensation insurance program in Florida ignores fault and focuses instead on where it took place.
If you were at work performing your duties when you suffered an accident, workers compensation would pay even if it was your fault. Many times, injured workers are delighted to hear that workers' compensation is not interested in assigning blame.
However, there are times when employees have suffered workplace injuries through no fault of their own, and they become very frustrated that workers' compensation is not interested in investigating who was to blame. That's why it's important to work with a workers compensation attorney to help you achieve the outcomes you are looking for.
How Do Workplace Injuries Happen?
An injury at work may happen on a construction site, at a restaurant, in an office, or any other job site where hard-working individuals are earning a living.
Accidents at work may be caused by:
Failure to follow proper procedures
Unsafe working conditions
Inadequate training and/or supervision
Faulty or defective products or parts
Involvement in a car accident while driving a company vehicle
A negligent subcontractor or an associated business
Florida Workers' Compensation Laws
Most employers are required under Florida law to provide workers' compensation to employees that are injured on the job. Workman's compensation, also known as "workers' comp" or "work comp," provides for medical bills and lost wages.
However, if you have been injured due to a third party (someone who is not your employer), then you may be eligible to file a claim for compensation in addition to your workers' comp benefits and social security disability. If it's too confusing, make sure you reach out to an experienced Florida workers compensation lawyer to help you understand workers compensation laws so that you get all of the compensation you are entitled to.
The Reason Blame Does Not Matter In Most Cases In Florida
The workers' compensation insurance program is designed to work faster and cheaper than the normal legal system. In most other situations, when you get hurt, and it is not your fault, you have an opportunity to sue for damages. This process can take years because there is usually so much disagreement with who was at fault and how much money would fairly compensate the injured victim.
It is very common that your workers' compensation lawyer argue for years without an agreement which necessitates a trial before a jury. This is the specific situation that the workers' compensation program in Florida tries to prevent.
The first way that your claim is fast-tracked is by not even addressing the issue of blame. As long as it happened at work and while you were working, the claim will go forward. So, half of the problem that causes delays is thrown right out the window from the start.
Another way the program speeds up the process is by using formulas to calculate compensation. The workers' compensation program tries their best to apply these formulas fairly and consistently with every injured worker. Moreover, while these formulas are easy to understand, the calculation of benefits has nothing to do with your pain or suffering.
The argument of how much money an injured victim should get for pain and suffering compensation is commonly argued about for years. As such, removing this type of compensation allows you to receive benefits in most cases within weeks of being injured on the job. A workers compensation lawyer can help you better understand how Florida laws protect your right to a faster process.
What Are the Most Common Causes of Workplace Injuries?
Injury attorneys assist clients that have been injured due to:
What Are the Most Common Workplace Injuries?
These workplace injuries can range from sprains and bruises to more serious injuries requiring hospitalization, surgeries, or even loss of life.
On the job injuries may include:
Back injuries
Severe laceration (cut)
Burns
Eye injury
Electrical shocks
Broken bones
Hearing loss
Arm, shoulder, wrist or elbow injuries
Spinal cord injury
Whiplash
Amputation
Paralysis
Other injuries
Third-Party Negligence Claims
Third party negligence may occur if a product is faulty or defective, if you're injured on someone else's property due to unsafe conditions, or if you are injured due to the negligence of a contractor (someone who is not another company employee).
In a third-party negligence claim, you may be able to file a suit against the negligent third-party, such as the manufacturer of the unsafe or defective equipment, the owner of the property where the accident happened (if different from your employer), or against another company or contractor whose employee caused your accident.
How Does A Workplace Injury Lawyer Help With Benefits?
Workers' compensation provides assistance to employees that are unable to work due to a workplace injury.
To help clients obtain the benefits they need to heal and rebuild their life, workers' compensation lawyers at Burnetti, P.A. may be able to:
Appeal employer-denied claims and represents you in court
File a third-party negligence claim
File for social security disability benefits
Obtain a doctor or medical test
Recuperate lost wages
The Price Of Workers' Compensation Benefits Is Losing Your Ability To Sue
Getting benefits quickly and fairly sounds like a great deal. And, in most cases, the injured worker is greatly appreciative of how well the workers' compensation program works in Florida. It usually pays for your medical bills and most times it pays you enough to keep up with your financial responsibilities as you stay home to heal.
However, the price of this system is that an injured worker has lost the ability to sue their employer or the workers' compensation insurance program for damages. This becomes a hard pill to swallow when the injured worker thinks that their employer is responsible for the accident and they deserve compensation for the pain and suffering they endured.
Or, when an injured employee thinks that their employer will not learn their lesson unless they pay for their role in their accident. Nonetheless, the ability to sue for a work-related injury is very limited.
A Qualified Florida Workers' Comp Attorney Can Help Investigate Who Was To Blame
Since the workers' compensation insurance process does not factor blame into their decision to award benefits, their representatives are not interested in listening to you talk about blame. Furthermore, if your employer is responsible for the accident or even thinks that you might want to hold them responsible, they may not be interested in investigating how you became injured.
There are even situations where co-workers are afraid to say what they know about your accident because of possible retaliation from an employer. This is where a qualified workers' compensation lawyer who is experienced with workers' compensation claims can provide you with the type of assistance that you need.
Many injured workers are told by their employer, the insurance adjuster, or friends who have gone through the workers' compensation claim process that blame does not matter. They may say that you are wasting your time with a workers' compensation lawyer who wants to investigate who is responsible for your injuries. What these people do not understand is that there are two situations where blame matters.
Why It Matters If Your Employer Is Liable
As stated above, in most cases blame does not matter. However, a qualified workers' compensation lawyer can tell you when it matters to blame your employer. Workers' compensation insurance is not designed to protect an employer who breaks the law or is grossly negligent when it comes to workplace safety.
A good Florida workers' comp attorney knows when the employer protections from workers' compensation insurance end. There is a line that once your employer crosses, allows you to sue your employer for damages. If this happens, then you might be able to pursue damages that far exceed your workers' compensation benefits.
Why It Matters If A Third Party Is To Blame
The other situation when blame matters are when there is a third party involved in your accident. An experienced workers' compensation lawyer will be able to determine if a third party is responsible for your accident.
For example, let's say that you suffered chemical burns because a container ruptured due to a manufacturing defect. Or, maybe you were injured in a forklift accident because the forklift had a design flaw that allowed for it to jolt forward without notice.
In situations like this, an injured worker can sue a third party for their damages. And, just like when suing your employer, you can pursue damages that are not available via your workers' compensation benefits.
What Should You Do if You're Injured at Work?
While consulting a workers' compensation lawyer is a good idea when suffering a workplace injury, it is not the first thing you should do. Immediately after getting hurt and if your injury does not require emergency treatment, you should report your injury to your supervisor.
The Florida workers' compensation program allows an injured employee to take up to thirty days, however, doing it right away has the following advantages.
You get the reporting over and done.
Your employer can tell or give you a list of doctors that are part of the workers' compensation network. This is important because going to a doctor outside the network will delay your claim, or even worse, workers' compensation may not pay all or part of your medical bill with the out-of-network doctor.
If witnesses are needed to confirm that you were hurt at work, reporting the incident right away allows for these witnesses to give their story while the accident is still fresh in their memory.
However, if your injury requires immediate medical attention, do not worry about reporting the accident. Your focus should be on getting to an emergency room as soon as possible. Your health is paramount, and everything else can wait.
Contact A Workers' Comp Attorney If Your Employer Will Not Or Cannot Help
In many cases, your supervisor will not know what to tell you about doctors or paperwork. Moreover, many employers do not have somebody trained to help you with your workplace injury properly. In cases like this, you should look for a poster in your workplace that gives information about workers' compensation claims.
This poster should have a number and someone at the end of that number should be able to give you a list of doctors in your area that is inside the workers' compensation network. The same person can also help you get your claim started. However, if you cannot find a poster, please call the Florida State Division of Workers' Compensation hotline at 1-800-342-1741.
Dealing With The Insurance Company
Most of the time an insurance adjuster will call you within one day after reporting the injury. However, if they do not call within 48 hours or they call and leave a message, it is important that you call them. An insurance representative should be able to explain your rights, benefits, and responsibilities.
If you have not received a packet from the insurance company by the time you talk to the adjuster, be sure to ask him or her about it. This packet explains the entire workers' compensation claim process as well as details how benefits are calculated. It's important that you understand everything in the packet. If you don't, you may want to consult a workers' compensation lawyer.
Seeing The Doctor For The First Time
Your first meeting with your doctor is very important. Decisions regarding benefit amounts and whether or not your injury is covered by workers' compensation are based on what your doctor details in your medical records. It is important to be honest and thorough regarding your medical history and in what happened at work.
Make sure your doctor understands the events at work that caused your injury. Remember, if your medical records do not indicate that your injury happened at work, your claim may be denied. Ask questions until you understand completely about the nature of your injury and recovery.
Inquire about whether or not your injury is permanent. Or, how will the injury affect your life? Also, be clear on understanding what you need to do to recover. Finally, describe what you do at work and find out when and if you can clear to return. If you are not cleared, make sure the doctor details in writing what duties you can safely perform so that your employer will understand.
Keeping Your Job After A Workers' Comp Lawsuit
Being injured can be difficult, especially if you think your employer is to blame. However, it is important to remember that while you do have rights, you are still an employee and must act accordingly or risk being fired. Too many injured employees think that they can act however they want and that they cannot be fired because they were injured on the job.
While there are protections in place, an injured worker cannot be insubordinate just because they are angry. The best thing an injured worker can do to keep their employer happy is to take the initiative to communicate regularly with their supervisor. Make sure your immediate supervisor knows what your doctors said after every visit.
Check in weekly to give an update as to how you are feeling. You will be amazed at how far communication will go. A Florida workers compensation attorney at our law firm will explain all the things you need to know to be in good standing legally and with your workplace.
Understanding The Different Types Of Workers' Comp Benefits
There is compensation that is called indemnity damages which are designed to pay you benefits if you miss working longer than seven days. These damages are a percentage of what you were getting paid when you were injured and cannot exceed what you were paid for the 12 month period prior to your accident.
There is also total incapacity coverage which compensates an injured worker who cannot return to work for a long time, if ever. This compensation will not last longer than two years.
If you still cannot return to work after two years, you must see the doctor for a different kind of evaluation. This doctor will evaluate your permanent impairment and prepare a report for the workers' compensation insurance program to review. Workers' compensation has formulas that dictate how much you will be compensated based on your permanent impairment. The more debilitating the impairment, the larger the benefit will be.
Florida Workers' Comp Lawyers Near You
The workers' compensation claim process can be very simple, or it can get extremely complicated. Burnetti, P.A. will not charge you for an initial consultation with one of our Florida workers compensation attorneys.
As such, you have nothing to lose by visiting with a qualified and experienced workers' comp attorney that is familiar with workers' compensation claims. Call us today at

(888) 444-8508

or send us a message online for a FREE consultation.

What Sets Us Apart?
Reasons to Trust Burnetti, P.A. with Your Case
A Proven Record of Results

We have recovered millions of dollars for our clients, including many multi-million-dollar verdicts and settlements.

A Culture of Customer Service

We treat all of our clients like family, requiring regular calls to clients in an effort to promote the best possible client experience.

Decades of Unwavering Service

Our firm has proudly served injured people throughout the state of Florida for 30 years, and we're just getting started.

A Network of Support

We help clients find doctors, deal with insurance companies and recover compensation for medical bills and lost wages.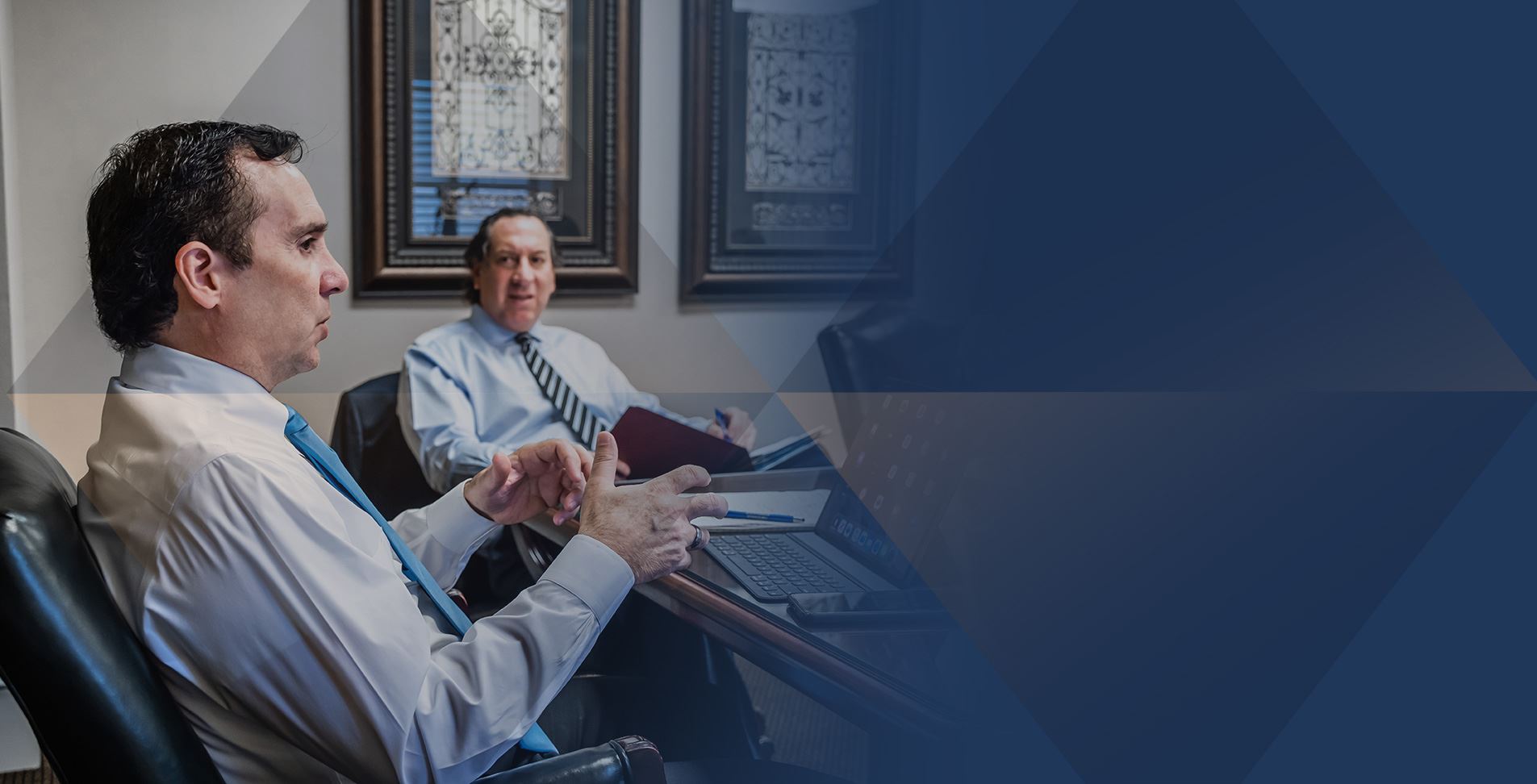 Our Testimonials
Hear From Clients Across the State of Florida
- Michelle M.

- Jeannette D.

- Gerard E.

- Evelyn B. R.

- Chuck S.