Car Accident Lawyers in Florida
Any car accident can be a distressing occurrence. Every experienced Florida car accident lawyer has observed it many times – The many weeks and months right after a car accident can be equally as unsettling. Even though the collision is over in just a few mere seconds, the personal injuries can take a long time to recover from.
Furthermore, it may take as long to obtain sufficient reimbursement for the personal injuries sustained, mostly dependent on whether or not the other driver's insurance company has decided to dispute your claim and the basic facts around your case. Having a Florida car accident lawyer that has the understanding of what to anticipate and list of positive actions in the time right after and the days following an automobile crash can help you greatly in taking definitive action and calming your feelings in such a traumatic time.
Free Car Accident Consultation And Case Review
No Fees if No Recovery (Compensation)
No Upfront Costs
Day/Evening/Weekend Appointments Available
We Come to You – Home or Hospital
Calls Answered 24/7
Hablamos Español
Every day, people take to the roads for work, school, family, errands – daily activities and routines that should be ordinary. A car accident can happen suddenly and interrupt not only your day but your life.
If you believe a negligent driver, a defective part or poor roadway conditions caused your car accident, our lawyers at Burnetti, P.A. may be able to help. Contact us today to schedule a consultation with a Florida car accident lawyer.
Types Of Accident Cases Handled By Burnetti, P.A. Accident Lawyers
The injury law firm Burnetti, P.A. represents clients that have been injured in various types of accidents, including:
Airbag deployment
Bus crash
Auto Accident
Defective car parts
Fatal car crash
Fender benders
Intersection collisions
Interstate and highway accident
Motorcycle accident
Rear end collision
SUV rollover
Texting while driving
Truck accident
Uninsured motorist claim
Tire blowout
Distracted Driving Accidents
Driving a car, truck, motorcycle, semi-truck or other vehicle requires concentration and focus. Stoplights, traffic, and pedestrians populate streets and interstates, requiring additional caution. Activities that interfere with driving may cause accidents, leading to injuries and loss of life. If you have been injured by a distracted driver, car accident attorneys at Burnetti, P.A. may be able to help with your accident claim.
Dangerous Habits While Driving
Distracted driving involves any activity a driver engages in that reduces their focus and concentration. Increased usage of mobile devices enable activities, including talking and texting while driving, add to the list of other common distracters:
Changing music or DVDs
Applying makeup
Eating
Reading a map or GPS device
Tending to children
If you have been injured due to a negligent driver engaging in any of these or other distracting activities, you may be able to file a claim for compensation.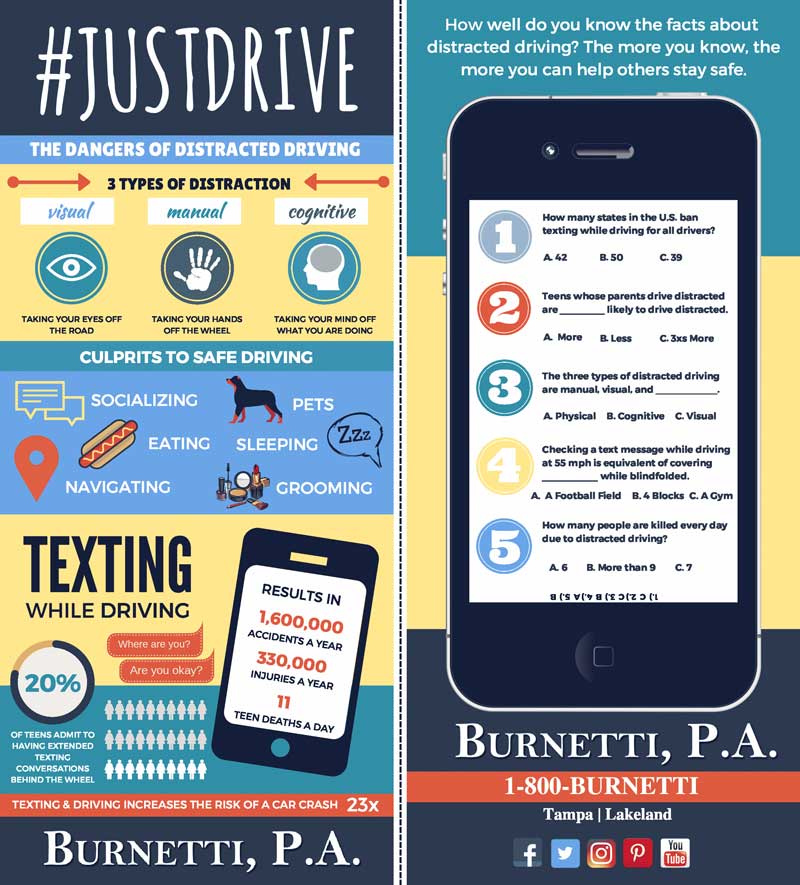 How Auto Injury Attorneys Help Car Accident Victims After An Accident? You May Have Questions
How will I pay my bills?
When can I go back to work?
How will I get around while my car is being repaired?
Did a defective car part cause the accident?
Was the other driver under the influence?
Did the condition of the road contribute to the accident?
What do I say to the insurance company?
Should I sign these forms?
If you believe you have a car accident claim, an auto injury attorney may be able to help collect compensation on your behalf from the negligent driver or company. Auto injury lawyers can answer questions and may be able to help file a car crash claim. An attorney can also help prove if another driver, a car parts manufacturer, or other party is responsible for the car crash.
At Burnetti, P.A., every client's accident is reviewed to understand how the crash happened and may include investigating the scene of the accident, talking to witnesses, hiring experts, and researching and applying applicable laws and safety regulations.
Common Causes Of Florida Car Accidents
The majority of driving accidents can be prevented if drivers would just be a little more cautious when driving and demonstrate a greater sense of responsibility. But many times, this does not happen. That is why we see an increasing number of accidents on our roads today, and why a car accident attorney can be necessary. Some of the most common causes of car accidents in Florida include the following:
Is Distracted Driving Common in Florida
A majority of car accidents in Florida are due to distracted driving. The distraction may be because of eating while driving, texting, or using the mobile phone. With the huge number of vehicles on the road, it only takes a few seconds of distraction to result in an accident. Even though police have ramped up efforts to ticket distracted drivers, you can still see many drivers using their mobile phone while driving.
Is Speeding a Problem in Florida
Speeding is another major cause of car accidents in Florida. Drivers, usually young people, continue to drive at high speeds, regardless of traffic or pedestrians. The faster a vehicle is traveling, the longer it takes to come to a full stop if there is an obstruction ahead. And when a driver who is speeding is involved in a car accident, the injuries to both parties tend to be severe. Speeding is not only limited to car owners but also truckers and bus drivers.
Disobeying Traffic Laws
Another very common cause of car accidents is not obeying traffic laws. Some drivers constantly run through traffic lights and others fail to come to a full stop at a red light. Many others simply ignore speed limits and yet others make left or right-hand turns, even when not permitted.
Drunk Driving
Drunk driving is another major cause of motor vehicle accidents in Florida. This is particularly true during the weekend, and holidays like Thanksgiving, Christmas and July 4th. Drunk driving accidents account for nearly 30% of all traffic fatalities. Each year roughly 700-800 people are killed in Florida as a result of drunk drivers.
Too much alcohol is known to impair mental status and can delay response time; thus, when driving while drunk, the risk of an accident is very high. People who are drunk also have impaired judgment and delayed reaction times. Drunk driving is most common among young people, teenagers, and adolescents. Drunk driving is a serious crime and associated with serious penalties in Florida.
What is Reckless Driving
Reckless driving includes suddenly changing lanes without looking, tailgating other motorists, ignoring road signs, trying to show off on the roads and disregarding all traffic laws. Reckless driving is common among young people and in many cases, it is also associated with a higher risk of accidents and serious injuries to others.
Not Using Caution:
Car accidents also occur when the driver does not use caution or does not adjust according to road conditions. Some drivers continue to speed even when the roads are wet or slippery. Sometimes there is fog, and people still do not slow down.
What To Do After A Car Accident In Florida?
After a car crash, it is important to seek medical help and notify the police of the accident. If you are medically able at the scene of the accident, it is critical that you try to obtain as much information as possible about what caused the crash. This includes taking pictures of the accident scene and the cars, motorcycles or trucks that were involved in the wreck, obtaining the contact information of other drivers, and obtaining the contact information of any witnesses.
Recovering Damages Following An Auto Accident
After a crash, you may seek to pursue a claim for damages against the negligent driver(s). Injury attorneys at Burnetti, P.A. help clients file a car crash claim against the negligent person, company or other entity on a client's behalf to compensate for lost wages, pain, and suffering, future lost earnings and medical bills for severe injuries including whiplash, muscle strains, broken bones, lacerations (cuts), traumatic brain injury, spinal cord damage or other serious injuries.
Injured In a Car Accident? Lawyers At Burnetti, P.A. May Be Able To Help
If you have been injured in a car accident, you don't need to face the aftermath alone. Injury lawyers ease the burdens that accident victims face. Burnetti, P.A. represents plaintiffs against profit motivated insurance companies and businesses, and are ready and willing to go to trial. If there is no recovery, there are no fees and no cost to you. To schedule a free consultation, fill out the case evaluation form or call us!
To understand more about our fees, check out our FAQ on this topic!
After a car crash, it is important to seek medical help and notify the police of the accident. If you are medically able at the scene of the accident, it is critical that you try to obtain as much information as possible about what caused the crash. This includes taking pictures of the accident scene and the cars, motorcycles or trucks that were involved in the wreck, obtaining the contact information of other drivers, and obtaining the contact information of any witnesses.
Whiplash Injury Attorneys Florida
A neck injury, or whiplash injury, may happen after a car accident, a workplace accident, or any other sudden activity that causes the head and neck to suddenly move violently outside of its normal range of motion. The whiplash attorneys at Burnetti, P.A. represent neck injury victims across Florida that have been injured by negligence and help obtain compensation for lost wages, medical bills, and pain and suffering.
What Is Whiplash And Soft Tissue Damage?
Whiplash is a spinal injury that affects the part of the spine that comprises the neck. Your doctor may call your whiplash injury a hyperextension injury (if your head jerked forward), hyperflexion (if your head jerked backward) or a cervical strain or sprain. The sudden movement may result in soft tissue injuries, such as a herniated disc, bulging disc, or damage to muscles and ligaments.
Common Truck And Car Accident Whiplash Symptoms
Diagnosing whiplash or other soft tissue damage cases can sometimes be very challenging. An X-ray may be considered negative or normal, yet whiplash victims may still experience pain. This pain may be immediate, or it may show up after several days and gradually worsen over time. The painful symptoms of whiplash and soft tissue damage may include:
Anxiety
Blurred vision
Cervicalgia (neck pain)
Damages to the ligaments
Difficulty sleeping
Difficulty swallowing
Difficulty turning neck
Diplopia (double vision)
Dizziness
Fatigue
Forgetfulness
Headaches
Impaired concentration
Irritability
Lightheadedness
Muscle spasms
Neck tenderness
Nightmares
Numbness (cold sensation)
Post-traumatic depression
Radiating neck pain
Restricted motion
Sensitivity to noise
Stiff neck
Tingling (pins and needles)
Weakness
Scapular (the bone that connects the arm bone with the collarbone) pain
Causes Of Whiplash
Minor and major rear-end collisions are the most common cause of whiplash. In minor car accidents occurring at low speeds, there may not be any structural damage to the car because the bumper absorbs the impact; however, the car still lurches forward and may result in a whiplash injury or soft tissue injury to the driver or passengers. Even if the accident or injury seems minor at first, it is still important to be checked out by medical personnel as it may take your body awhile to register pain and the injuries may be more severe than they initially seemed.
In addition to car accidents, other causes of whiplash include:
Trip and fall accident
Trucking accident
Theme-park roller coaster accident
Representing Your Whiplash Claim
The painful effects of whiplash can last a long time and may get worse before they get better. Whiplash victims may require physical therapy, medication, and rehabilitation to help heal. Some insurance companies may be resistant to paying medical bills because the injury may be difficult to diagnose.
Vehicles are equipped with airbags as a safety standard to help prevent injuries in the event of a car accident. However, when airbags are defective, they can cause more harm than good. Takata Corporation, one of the largest automotive suppliers in the world has recalled millions of airbags because they can shoot shrapnel into drivers and passengers.
If you have been injured by a defective airbag in a car crash and have sustained serious injuries, Burnetti, P.A.'s airbag injury attorneys can review your case to see if you have a claim.
Do I Have An Exploding Airbag Case?
According to the National Highway Transportation and Safety Administration, more than twenty-five percent of all vehicles on U.S. roads are involved in the massive defective airbag recall. If you have suffered an injury due to an exploding airbag, call airbag injury attorneys to discuss your possible claim.
Defective airbags can cause a multitude of injuries, including:
Loss of life
Traumatic brain injuries
Spine and back injuries
Neck injuries
Loss of limbs
Loss of eyesight
Other severe bodily trauma
Airbags are intended to protect drivers and passengers from suffering major injuries in a vehicular crash, not cause them. If you or a loved one have been injured by a defective airbag, it is important to have someone on your side to help you know your rights and immediately begin the investigation process. Burnetti, P.A.'s airbag injury lawyers represent victims that have suffered a loss or injury, not insurance companies.
Schedule A Consultation With A Skilled Florida Car Accident Lawyer Today
Burnetti, P.A. has the experience to overcome the insurance company's resistance and aggressively fights for clients so that they may obtain the true compensation deserved.
Before making a quick decision and accepting a settlement offered from an insurance company, call (888) 444-8508 or schedule a free consultation with a Florida car accident lawyer at Burnetti, P.A. to discuss your potential claim and legal rights.

What Sets Us Apart?
Reasons to Trust Burnetti, P.A. with Your Case
A Proven Record of Results

We have recovered millions of dollars for our clients, including many multi-million-dollar verdicts and settlements.

A Culture of Customer Service

We treat all of our clients like family, requiring regular calls to clients in an effort to promote the best possible client experience.

Decades of Unwavering Service

Our firm has proudly served injured people throughout the state of Florida for 30 years, and we're just getting started.

A Network of Support

We help clients find doctors, deal with insurance companies and recover compensation for medical bills and lost wages.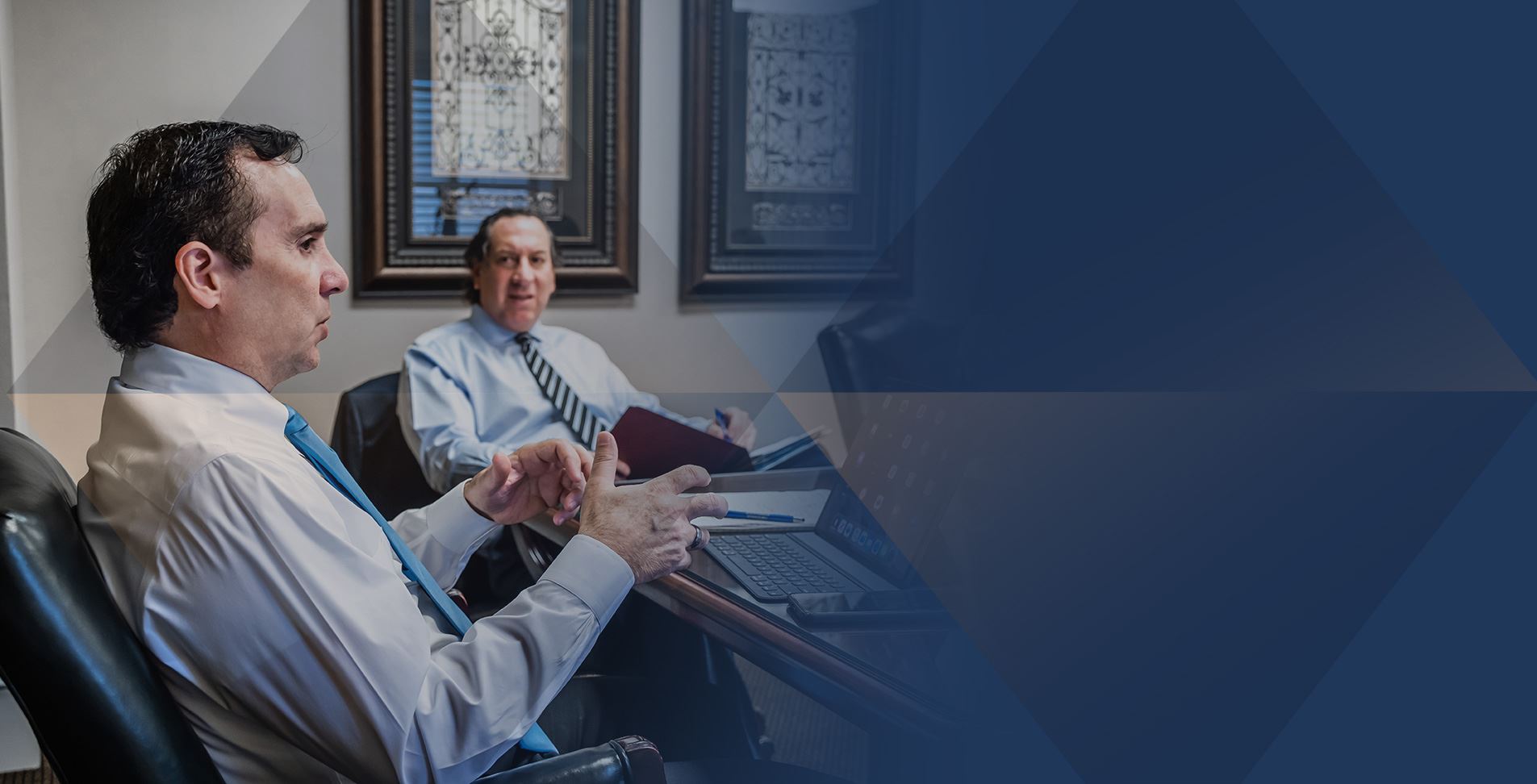 Our Testimonials
Hear From Clients Across the State of Florida
- Michelle M.

- Jeannette D.

- Gerard E.

- Evelyn B. R.

- Chuck S.