Florida Nursing Home Abuse Lawyers
Handling Nursing Home Neglect And Elderly Abuse Cases
Unfortunately, we cannot often think about the probability of elderly abuse and nursing home neglect and physical abuse and personal injury or mental abuse in nursing homes. If you are a witness of nursing home abuse, contact a nursing home abuse lawyer immediately. A nursing home abuse attorney can get justice by helping you file an abuse and neglect case. As a result of their age or affliction, it is usually not easy to communicate with an older person concerning maltreatment and/or neglect and elderly abuse. Thus, in many cases, physical or mental abuse, as well as negligence, go unknown. A number of laws are in position within the State of Florida to cover the elderly by governing the facilities within which they are living.
All of these standards shield the people and senior citizens at these types of facilities. The focused nursing home abuse lawyer at our seasoned elderly care facility mistreatment and neglect law practice stand to offer further protection to the elderly and see that they're rewarded with the recompense they are entitled. Justice is the central thing in a scenario concerning the exploitation or neglect of a loved one and our firm realizes that truth.
On This Page:
If you have encountered physical or mental abuse or neglect from establishments in the Florida area and need aid, talk to a nursing home abuse lawyer by filling out this form or contact our office.
Nursing Home Abuse Stats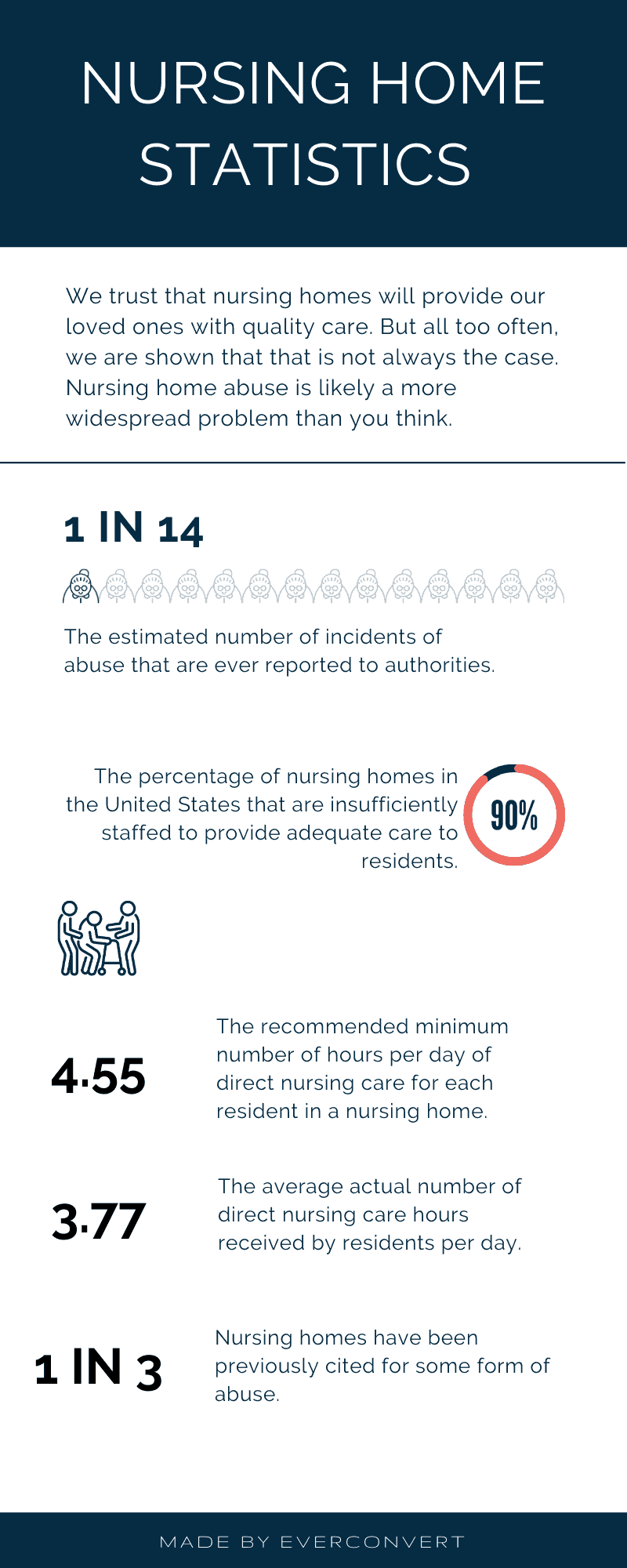 Recognizing Elderly Abuse In Convalescent Homes
Many times, assisted living facility abuse takes place and persists with all the victims staying unheard. Loved ones commonly fear the result of reporting it simply because they are unsure of the appropriate resources available to them. It will be imperative that you are aware of and can identify maltreatment and neglect. The following are some methods that will help you to identify mistreatment:
Unexplained Injuries: If you discover an injury without a detailed record or clear documentation, maltreatment seems evident and may be a problem.
Bruises: The location of where you notice severe bruising or harm is extremely important. As an example, if you notice bruising at the arms or limbs, that could suggest that your loved one could have been dealt with roughly or was restrained without cause. Despite the fact older people tend to bruise, the comprehensive care and attention and full-time service offered at a nursing home facility should produce significantly less bruising or injury.
Bedsores and Pressure Sores: Quite often, an elderly patient is restricted to the bed. Should that be the case, it is essentially an individual is transferred to a new position after a couple of hours. A frequent sign of neglect in bedridden, older individuals is numerous and worsening bedsores.
Unnecessary Weight Loss: Be aware of an excessive amount of weight loss with your relative. If there's sudden or considerable weight loss, it could possibly signify the patient is not receiving the specific diet offering the nutrients essential to replenish them.
Lack of Hygiene: Cleanliness is another job of assisted living. In case the resident's space or attire stay dirty, be aware because that can mean they're not being treated correctly.
Bloody Clothing and Bleeding: Though rare, sexual abuse is still a possibility for vulnerable nursing home patients.
Accidents Caused by Slips or Falls: An elderly care facility is responsible for seeing that all walking ramps or handrails are serviced as well as in reasonable condition to avoid any future mishaps.
Chemical Restraints: A frequent statement of maltreatment in nursing homes is subduing patients. Nursing home employees can give an extensive amount of medication to a dementia patient who may resist their efforts or act in a hostile manner. The effects of the abnormal dosage as treatment is harmful and could even result in demise.
Reporting Nursing Home Abuse in Florida
Nursing home abuse is a serious issue that unfortunately occurs all too often in Florida. Whether it's physical, emotional, or financial abuse, it's essential to report any signs of abuse immediately to ensure the safety and well-being of nursing home residents.
If you suspect that abuse is occurring in a nursing home in Florida, there are several steps you can take to report it:
Contact the Florida Department of Elder Affairs: The Department of Elder Affairs is responsible for investigating reports of abuse in nursing homes. You can call the Elder Abuse Hotline at 1-800-96-ABUSE (1-800-962-2873) to report any suspected abuse.
Contact the nursing home administrator: If you suspect abuse is occurring in a nursing home, it's important to notify the facility's administrator immediately. They are required by law to report any suspected abuse to the appropriate authorities and take appropriate action to protect residents.
Contact law enforcement: If you believe that a resident is in immediate danger, contact law enforcement immediately. They can intervene and ensure the resident's safety.
Speak with an attorney: If you suspect abuse has occurred, it may be beneficial to speak with an attorney who specializes in nursing home abuse cases. They can provide guidance on the legal options available to you and the resident.
It's important to remember that reporting nursing home abuse is not only the right thing to do, but it's also required by law. By reporting abuse, you can help protect vulnerable nursing home residents and ensure that those responsible for abuse are held accountable for their actions.
Florida Laws On Nursing Home Abuse
All employees of an elder care facility have to behave by the policies set in place based on the Florida Department of Health (FDH). If they do not adhere to policies a nursing home abuse lawyer may become involved to file an elderly abuse negligence claim for nursing home abuse. According to the laws, anyone must attend a specific amount of education class time before officially being employed by an elderly care facility. Florida law states that at a minimum a medical doctor, nurse, and nutritional specialist must be trained and present inside the assisted living facility. A criminal background check and required immunizations are standardized for every single staff member by Florida law.
Every person living in the facility as a patient needs proper medication, medical care for emergencies, and psychiatric counseling there when needed. It should be comprehended that it's a bare minimum requirement that the seniors get adequate things to eat, physical activity, the opportunities for community interaction, and then the capacity to dwell quietly presented to them. No senior citizen should be affected by nursing home abuse or nursing home neglect resulting in elderly abuse. There should be instantaneous documentation of abuse if an assisted living facility employee violates any one of the rights or guidelines provided to care for residents. Assisted living patients in Florida possess the legal right to live in sanitary conditions.
In order to avoid elderly abuse, Florida laws specify these factors. Ramps and rails ought to provide a less difficult and safer use of a clean area, including the kitchen space and also the lavatory. Clothes and bedsheets are required to be clean and changed with frequent regularity. Dirt, as well as other trash, should be taken from the carpeting/flooring and removed.
Air conditioning in the summertime, as well as heating during the cold months, must be provided and regularly repaired for proper working condition. Hot water is another vital specification of a senior living facility. Clean water for drinking and eradication of any sort of unwanted pests is another requirement. If any of these are neglected it could be grounds for having a nursing home abuse lawyer file a lawsuit for nursing home neglect.
Legal Consequences Of Elderly Care Facility Neglect And Elderly Abuse
Civil legal cases and even criminal charges might be consequential of any sort of senior living facility physical or mental abuse in Florida. Any employee associated with the nursing home that doesn't record something that goes against legislation will likely be facing criminal and civil penalties. If a case takes place wherein a member of staff reported there is an instance of neglect; even so, following researching the claim of abuse it's confirmed that there are no offenses, the employee is definitely not disciplined.
If the law is disregarded, the nursing home is under comparable consequences. In Florida, maltreatment which has not been recorded or neglect that has not been changed places the elderly care facility in danger of paying for huge fines and getting charges in civil litigation. The senior living facility can be completely shut down, in case the event merits it on account of significant instances of abuse and neglect. When your family or friend seems to have experienced mistreatment and neglect whilst being within the treatment of a senior care center in Florida, report the case now. As it is included in Florida regulations, any circumstances concerning mistreatment or negligence need to be claimed inside two years; although, it is always strongly prudent that a document is filed as speedily as humanly possible.
What is the Role of an Attorney in a Nursing Home Abuse Case?
If you or a loved one has experienced nursing home abuse, it's important to seek legal representation from an attorney who specializes in this area of law. An attorney can play a critical role in helping you seek justice and obtain compensation for the harm that has been done.
Here are some ways that an attorney can help in a nursing home abuse case:
Investigating the abuse: An attorney can conduct a thorough investigation into the abuse to gather evidence and determine who is responsible for the harm that has been done. This may involve interviewing witnesses, reviewing medical records, and gathering other evidence to build a strong case.
Advocating for your rights: An attorney can help protect your rights and ensure that your voice is heard throughout the legal process. They can help you understand your legal options and advise you on the best course of action to take.
Pursuing compensation: An attorney can help you seek compensation for the harm that has been done. This may include compensation for medical expenses, pain and suffering, and other damages related to the abuse.
Holding the nursing home accountable: An attorney can help hold the nursing home accountable for the abuse that has occurred. This may involve filing a lawsuit, negotiating a settlement, or taking other legal action to ensure that the nursing home is held responsible for its actions.
Providing emotional support: Going through a nursing home abuse case can be emotionally difficult, and an attorney can provide much-needed support and guidance throughout the process. They can help you navigate the legal system and ensure that your rights are protected every step of the way.
In short, an attorney can play a critical role in helping you seek justice and compensation for nursing home abuse. By working with an experienced attorney, you can ensure that your rights are protected and that those responsible for the abuse are held accountable for their actions.
Contact A Florida Nursing Home Abuse Lawyer If You Suspect Elderly Abuse At A Senior Living Facility
If you suspect an abusive situation, you should think of receiving the information and the knowledge of a Florida nursing home abuse lawyer rapidly. We stand on a very proud and good reputation for achieving damage compensation for victims of elderly abuse in Florida institutions. Reach out today schedule a free consultation with an experienced nursing home abuse lawyer from Burnetti, P.A., so that we can get started protecting you.
Talk with a Florida nursing home abuse lawyer if you want help understanding the legal rights offered to you or wish to know how to start the process. Give us a call at (888) 444-8508 today.

What Sets Us Apart?
Reasons to Trust Burnetti, P.A. with Your Case
A Proven Record of Results

We have recovered millions of dollars for our clients, including many multi-million-dollar verdicts and settlements.

A Culture of Customer Service

We treat all of our clients like family, requiring regular calls to clients in an effort to promote the best possible client experience.

Decades of Unwavering Service

Our firm has proudly served injured people throughout the state of Florida for 30 years, and we're just getting started.

A Network of Support

We help clients find doctors, deal with insurance companies and recover compensation for medical bills and lost wages.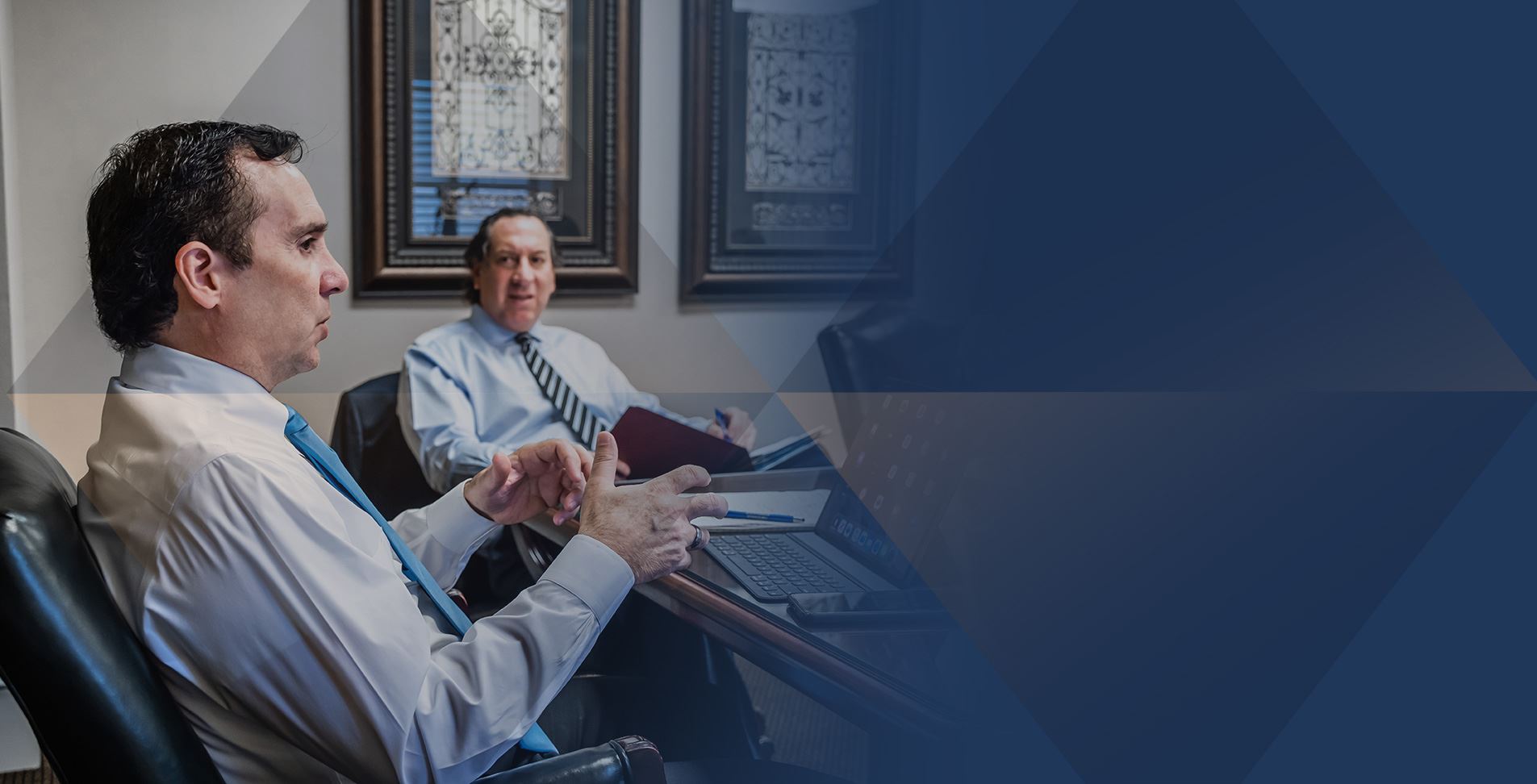 Our Testimonials
Hear From Clients Across the State of Florida
- Michelle M.

- Jeannette D.

- Gerard E.

- Evelyn B. R.

- Chuck S.