Florida Drunk Driving Accident Attorneys
According to statistics released by the National Highway Traffic Safety Administration (NHTSA), about 28 people in the United States die in drunk driving crashes each day. Our Florida drunk driving accident attorneys at Burnetti, P.A. represent the victims injured in alcohol-related accidents caused by negligent drunk drivers.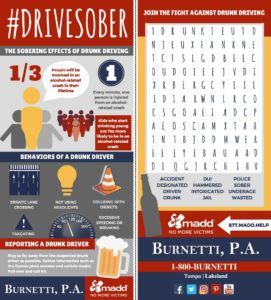 Drunk Driving Lawsuits in Florida
If you or a loved one has been injured in an alcohol-related accident, including a car accident, truck accident, bicycle accident, or even wrongful death, you may be able to file a drunk driving lawsuit.
Filing a civil lawsuit against a drunk driver may help you obtain monetary compensation for medical bills, lost wages, emotional anguish, and punitive damages. An attorney can help establish negligent parties in a lawsuit, including the driver, their insurance company, and even the establishment that served the alcohol.
How A Drunk Driving Accident Lawyer Helps Injured Victims
Burnetti, P.A. fully investigates client's claims and identifies legal rights. The experienced staff, including attorneys, investigators, and a former Florida Highway Patrol Traffic Homicide Investigator and Supervisor, use many techniques to review alcohol-related accidents, including:
Witness testimony
Police report evaluation
Medical evaluation
Crash site evaluation
Florida's Dram Shop Law
Drunk drivers and the establishments that served an intoxicated person, including bars, hotels, nightclubs or restaurants, may be held negligent and responsible for injuries or property damage that is caused by the recipient's intoxication. Under Florida's drunk driving law, or dram shop law, you may be entitled to file a claim against the establishment that sells or furnishes alcohol to a drunk driver if they are a minor, or if the establishment knowingly serves an alcoholic.
Restaurants, hotels, bars, nightclubs and other businesses that serve alcohol may purchase extensive liquor liability insurance to reduce their exposure to liability – money that you may be entitled to for your devastating drunk driving accident injury, medical bills, and lost wages. Our Florida drunk driving accident lawyers at Burnetti, P.A. help clients fight the insurance companies that represent the owners of negligent establishments.
Drowsy Driving Prevention
The Drowsy Driving Prevention Week is a campaign to bring awareness and educate drivers on the dangers of driving while drowsy. According to the National Highway Traffic Safety Administration, drowsy driving causes more than 100,000 accidents each year, attributing to 1,550 deaths and 71,000 injuries annually.
Furthermore, a study by AAA revealed that one in six deadly accidents is caused by drowsy driving. The study also showed that over half of the drivers who admitted to falling asleep behind the wheel did it on a divided highway at a high speed. One-third of Americans admitted to falling asleep while driving in the past year.
In order to prevent accidents caused by drowsy driving, it is important to recognize the signs:
Excessive yawning
Inadvertently drifting from the lane
Difficulty focusing
Feeling aggressive or irritable
Drowsiness impairs drivers from being able to react quickly and studies show that being awake for more than 20 hours can equal the blood alcohol concentration of 0.08% or the rate of legal impairment. Here are some tips to help stay alert while behind the wheel:
Consume caffeine
Avoid driving when you would usually be in a deep sleep
Avoid medications and alcohol that can cause drowsiness
Get a good night's sleep before driving long distances
Drive with a passenger to help keep you alert or take turns behind the wheel
Pull over in a safe place to take a short nap to stay alert
Statute Of Limitations
The Statues of Limitations laws in Florida requires a drunk driving accident claim to be filed in a timely manner. If you miss the deadline, then you may not be able to file a compensation claim. A drunk driving accident lawyer is familiar with the statutes of limitations and can assist with meeting deadlines to help obtain maximum recovery.
What To Do If You See A Drunk Driver?
According to the National Highway Traffic Safety Administration, over 10,000 people lost their lives this year due to a preventable crime. Sadly, alcohol-related accidents increase during the holiday seasons more than any other time of the year.
In an effort to help keep you and your loved ones safe, it is important to notice signs of an intoxicated driver, such as:
Tailgating
Stopping erratically without cause
Swerving or weaving across the road
Drifting between lanes
Responding slowly to traffic signals
Driving on the wrong side of the road
Mothers Against Drunk Driving (MADD) created a list of four things to do if you see a drunk driver:
Try to stay as far away from the suspected intoxicated driver as possible
Avoid passing the vehicle or attempting to signal the driver to pull over
Pay attention to the make and model of the car and if possible the license plate number
Pull to the side of the road and call 911 with the location and description of the vehicle
Schedule A Free Consultation With A Drunk Driving Accident Lawyer Serving Florida
If you have questions about a potential claim, schedule a free, no-obligation meeting with Burnetti, P.A. Offices are conveniently located in Tampa, Orlando, and Lakeland.
Take the first step to your recovery. Contact Burnetti, P.A. at (888) 444-8508. Calls are answered 24 hours a day, seven days a week.

What Sets Us Apart?
Reasons to Trust Burnetti, P.A. with Your Case
A Proven Record of Results

We have recovered millions of dollars for our clients, including many multi-million-dollar verdicts and settlements.

A Culture of Customer Service

We treat all of our clients like family, requiring regular calls to clients in an effort to promote the best possible client experience.

Decades of Unwavering Service

Our firm has proudly served injured people throughout the state of Florida for 30 years, and we're just getting started.

A Network of Support

We help clients find doctors, deal with insurance companies and recover compensation for medical bills and lost wages.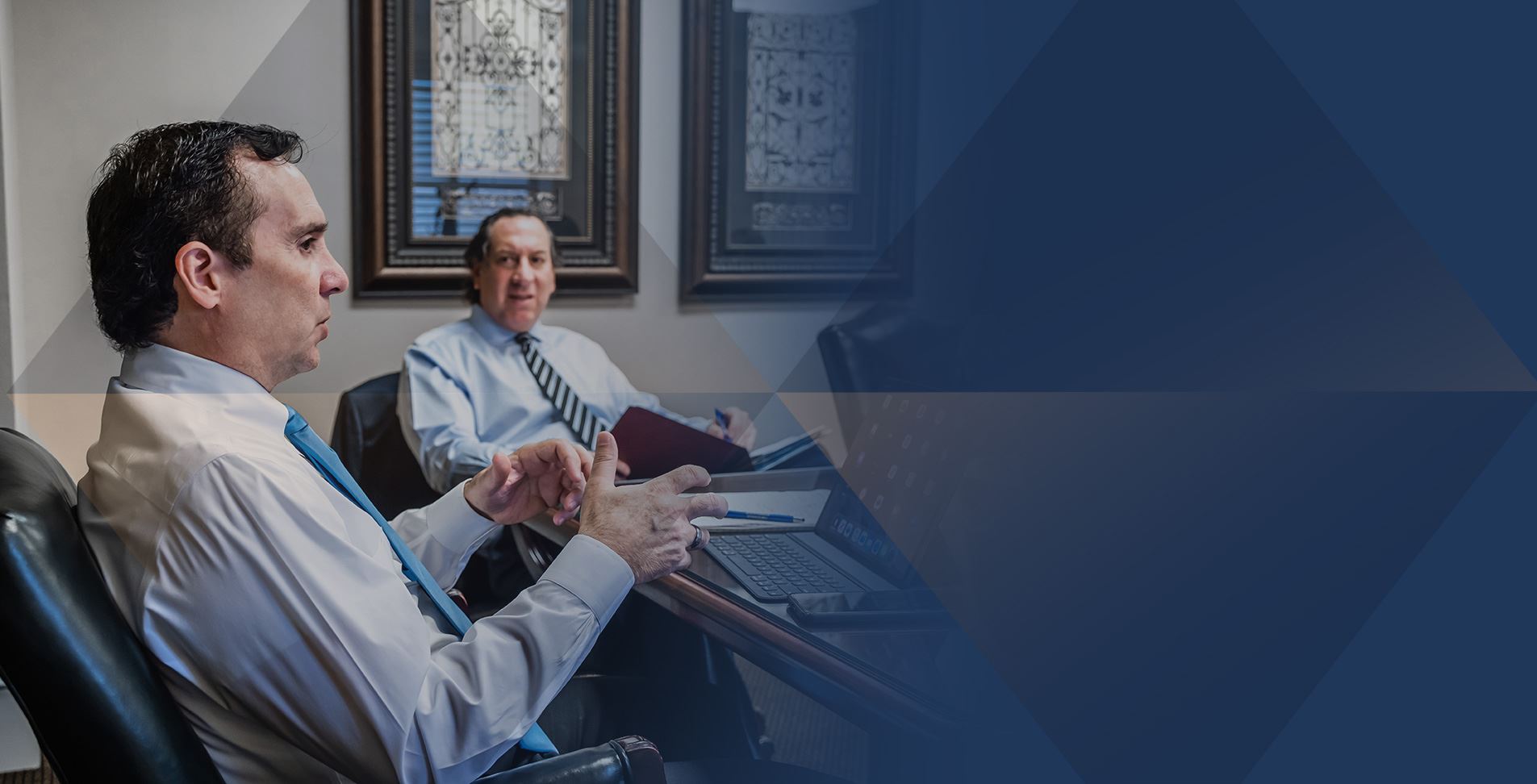 Our Testimonials
Hear From Clients Across the State of Florida
- Michelle M.

- Jeannette D.

- Gerard E.

- Evelyn B. R.

- Chuck S.