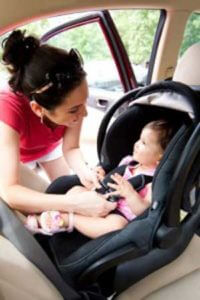 According to a study by AAA, three out of four car seats are incorrectly installed, increasing the risk of harm to a child in the event of a car accident. Moreover, the study discovered that one in five caretakers did not read instructions before installing the child restraints. The National Highway Traffic Safety Administration composed a list of the top five most common mistakes made by caregivers and parents:
The harness is in the wrong slot – AAA's study stated that the wrong positioning of the harness straps results in loose restraints, possibly causing children to suffer more severe injuries during an auto accident or even being ejected from the car seat. The harness should lay flat without any twists and should be snug enough that extra material cannot be pinched.
The harness is positioned wrong – The study stated that the chest clip was either not used at all or positioned incorrectly over the stomach. The harness chest clip should be positioned directly over the chest to be effective for proper restraint.
The car seat is installed wrong – The survey showed that 20 percent of parents did not read instructions on how to properly install a car seat. The restraint system should move no more than one inch when moving side to side. If it moves more than an inch, it is not installed correctly.
The harness is too loose – There should be no slack between the harness strap and the child. You should not be able to pinch any excess webbing of the strap when it is placed at the child's shoulder.
The seat belt placement is wrong – The shoulder seat belt should not lie across the child's neck or face
Furthermore, the National Highway Traffic Safety Administration stated: "The use of booster seats can reduce injuries by 45 percent, compared to using an adult safety belt alone." According to the organization Safe Kids Worldwide, safety belts do not fit children properly until they reach at least 4'9" tall and are around 80 to 100 pounds.
The second leading cause of death for children ages four to ten years old are automobile accidents. Implementing these child restraint safety practices may be able to help reduce severe injuries sustained in car accidents.
If you or a loved one were injured in a Florida car accident due to someone else's negligence, Burnetti, P.A. auto accident attorneys may be able to help you pursue the compensation you deserve. After a car accident, victims are in pain and may not know what rights they have by Florida law. Burnetti, P.A. is proud to offer a contingent fee for cases and a free case consultation. If you have been injured, call (888) 444-8508.