Do You Have the Correct Auto Insurance?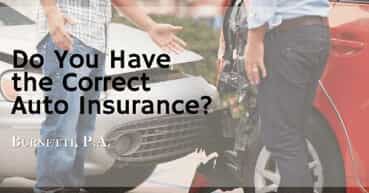 There are many misconceptions about car insurance policies. More than 50% of Americans do not know the basic facts about auto insurance. The worst time to start thinking about what insurance coverages you have or do not have is after an accident.
Insurance is one of the products people buy where they do not automatically always see the benefit of the purchase. Due to this, when finances get tight, car insurance is sometimes one of the first things people stop paying. Not having the correct car insurance to adequately cover your family could cause even more financial hardships and emotional heartache.
Types Of Auto Insurance Coverages
Over the years we have had many clients tell us that they have "Full Coverage" insurance. Would it surprise you to hear that "Full Coverage" insurance really does not exist? Typically people use the term "Full Coverage" to describe a combination of insurance that they have purchased, but there actually is no such coverage.
In the state of Florida, there are many different first-party coverages you can choose to carry:
Personal Injury Protection (PIP) – also known as Florida No-Fault Insurance. The Florida Motor Vehicle No-Fault Law requires all car owners to carry a minimum of $10,000 which allows you to collect lost wages, medical and funeral benefits.
Medical Payments Coverage (Medpay) is optional insurance that may be able to help fill the gaps between your expenses and your coverages. Medpay can help pay the deductible if your PIP policy has a deductible before it starts paying for your expenses.
Uninsured/Underinsured Motorist Coverage (UM/UIM) UM/UIM covers you when another person is at fault for an accident and they do not have any insurance or do not have sufficient insurance to cover your expenses. These coverages will help you recover compensation for pain and suffering if another person is at fault for an accident and does not have the insurance to cover your injuries or enough insurance to properly cover your injuries.
Bodily Injury Liability Insurance is coverage that helps keep you from personally having to pay money out to someone that you injured in a negligent act. In Florida, you are not required to carry any Bodily Injury Liability Insurance, but if you elect an insufficient amount of insurance, you could be personally financially liable if you injure another person.
After An Accident
After an accident, it is too late to reevaluate your insurance coverage. Now is the time to plan and prepare in case you ever get into an accident. Make sure you educate your insurance agent on the coverages you need to fully protect yourself and your family. Often just adding a couple more dollars a month can add additional coverage to protect yourself from severe financial hardships.
At Burnetti, P.A. we hope that these free insurance brochures help you prepare for the future to help make sure you have the correct coverage you need in the event of an accident.
Free Insurance Brochures
Click the images below to download your free insurance brochures.