Personal Injury Attorneys in Polk County
Personal injuries caused by negligence can leave a lasting impact and financial hardship, including physical pain, medical bills, and lost wages. Many times those who have suffered from a personal injury due to someone's negligence or carelessness are not familiar with accident claims or insurance company procedures. Polk County personal injury attorneys at Burnetti, P.A.are schooled and experienced in trial litigation and desire to help clients seek the compensation they need and deserve.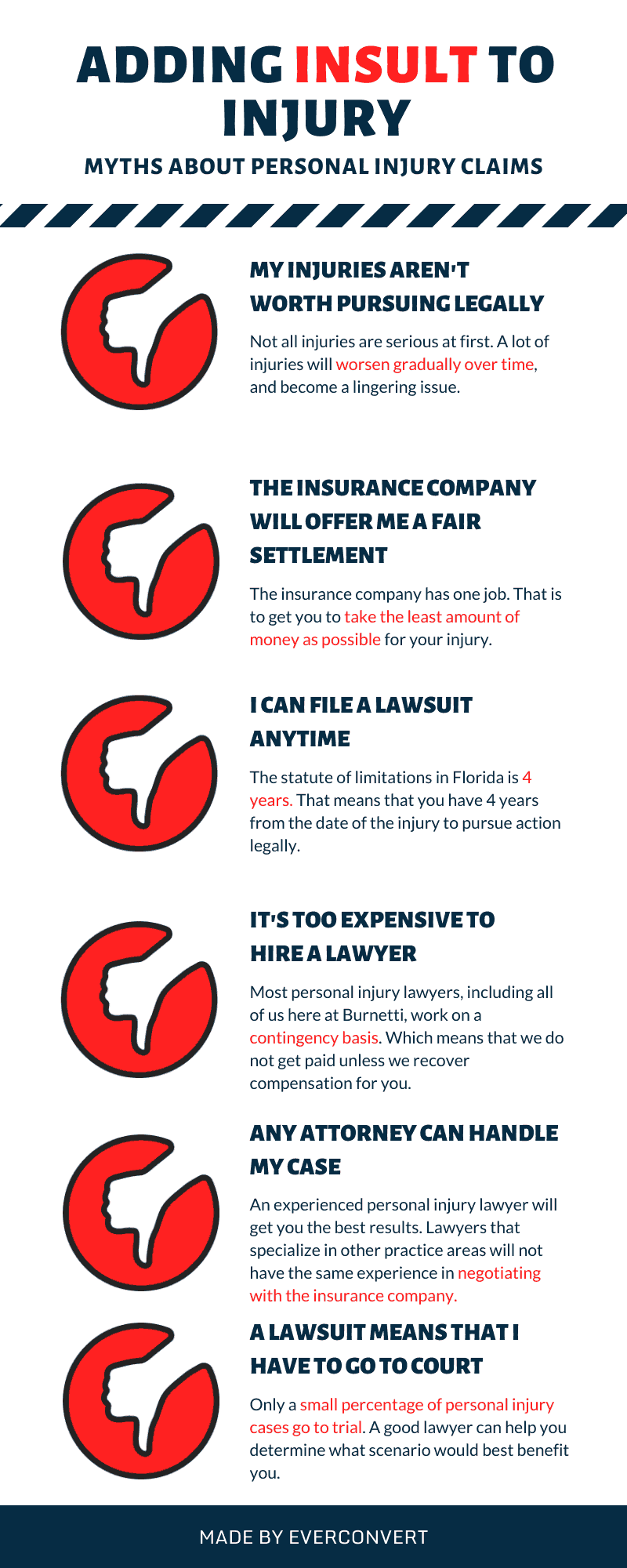 Representation Against Profit Motivated Insurance Companies
Often insurance companies that represent the negligent party may try to take advantage of the injured victim because they are aware that the injured victim is not prepared to take their personal injury case to court. Accident attorneys representing Polk County and the surrounding areas can help ease the stress of the injured victim by making sure the injured party is not taken advantage of and will fight for personal injury compensation that is fair and what the victim needs to recover.
Personal Injury Cases
Personal injuries can occur in various ways. Some of the most common personal injury settlements are:
Why Hire A Personal Injury Attorney At Burnetti, PA?
Attorneys at Burnetti, P.A.are schooled and educated in litigation proceedings and regularly try cases before juries and judges. While many cases are settled before trial, Burnetti, P.A.personal injury law firm accident attorneys are ready and willing to take a client's case to trial if necessary.
By concentrating on the focus of personal injury or death related cases, Burnetti, P.A.Polk County personal injury attorneys consistently perform on higher levels to get their clients maximum compensation.
Representing Polk County And Surrounding Areas
Burnetti, P.A.injury lawyers help clients in the Polk County and surrounding areas, including,
Auburndale
Bartow
Mulberry
Polk City
Personal Injury Costs And Personal Injury Compensation
Burnetti, P.A.handles cases on a contingent fee, which means the client does not owe any fees if the client does not receive compensation from the negligent party. If the client does receive compensation, the fees are based upon the amount of compensation obtained. If you have more personal injury questions, visit our Frequently Asked Personal Injury Questions page.
Contact Polk County Personal Injury Attorneys Today
Personal injury lawyers in Polk County are not only sympathetic and understanding but are also thoroughly schooled and trained on how to fight for maximum compensation.
If you have suffered from a serious personal injury due to someone else's negligence or carelessness, call

(888) 444-8508

to schedule a free consultation of your possible personal injury claim.