Burnetti, P.A. Founder Doug Burnetti Earns AV Preeminent® Rating by Martindale-Hubbell®
Award Marks 15th Consecutive Year Earning AV Preeminent® Rating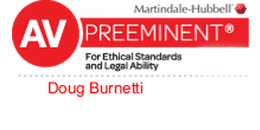 LAKELAND, FL, January 23, 2017 – Martindale-Hubbell, the nation's top peer-review rating service, has once again awarded Burnetti, P.A. founder Doug Burnetti the highest available rating, an "AV Preeminent." Mr. Burnetti has maintained this rating every since 2002, marking 2017 as the 15th consecutive year earning this accolade.
To achieve an "AV Preeminent" rating, Mr. Burnetti, a personal injury attorney, was reviewed by his peers in five key performance areas, including legal knowledge, analytical capabilities, judgment, communication ability, and legal experience. The "AV Preeminent" rating signifies that Mr. Burnetti's peers rank him at the highest level of ethical standards and professional ability.
"I am very pleased and humbled to be recognized by my peers for the work that I have done," said Mr. Burnetti. "In 1994, I opened Burnetti, P.A, a client-focused firm. We strive to create relationships with our clients, to help them through their problems, and to protect their interests against the insurance companies. It is a great distinction to have our peers in the legal field acknowledge this for the past 15 years."
A proud Gator and graduate of the University of Florida College of Law, Mr. Burnetti enjoys spending time with his family, especially his wife of 29 years, his children and his four grandchildren.
About Burnetti, P.A.
Burnetti, P.A. is a law firm dedicated to the representation of injured citizens across the state of Florida. Seven lawyers and nearly 100 support team members staff offices in Lakeland, Tampa, Clearwater and Sebring. Established in 1994 by Doug Burnetti, the firm's practice is concentrated in personal injury law, and aggressively represents cases involving auto accidents, wrongful death, product liability, traumatic brain injury, nursing home neglect, medical malpractice, social security disability and workers' compensation. For more information, please call (888) 444-8508.
Join the conversation on Burnetti, P.A.'s Facebook page www.facebook.com/BurnettiPA for the latest product recall, personal injury and safety news.
Subscribe to Burnetti, P.A.'s YouTube channel http:/www.YouTube.com/user/BurnettiPA for the most recent product recall information, latest firm commercials, and resources to help answer injury questions.