Personal Injury Lawyers in Florida
Personal injury is a body of law that allows victims (or their survivors) harmed by the negligence of a person, government agency, company, or other entity to pursue compensation for their injuries or damages to their property. These civil cases fall under a body of law called "tort law," and may involve:
Defective products
Other injuries
If you believe that your injury or loss of a loved one was caused by someone's negligence, hiring a lawyer for injury litigation may help you obtain the compensation you deserve.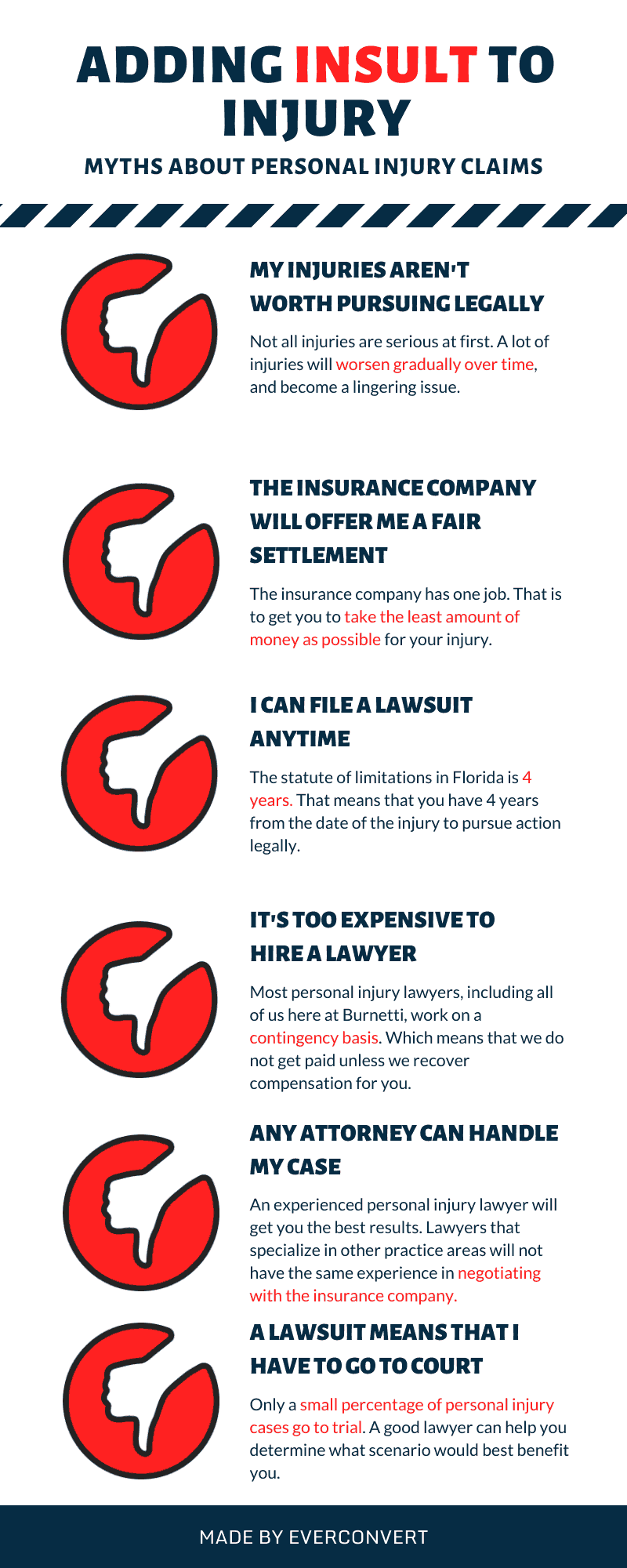 Accident Injuries
Accidents may occur suddenly and change your life forever. The resulting injuries may range from sprains and strains to severe or even life-threatening:
Broken bones
Severe burns
Whiplash
Other ailments
Loss of life
Medical care and treatment can be expensive, especially if the injuries require long-term care. While a large portion of injuries results from auto accidents or on-the-job accidents, they may also be the result of an ATV, theme park roller coaster, or another type of accident. If you have been injured due to negligence, personal injury lawyers at Burnetti, P.A. may be able to help you file an injury claim so you receive the medical care and assistance you need.
How Personal Injury Litigation May Help Accident Victims?
An injury can be devastating and disruptive, and some accident victims may think the legal process will just add even more stress. Personal injury attorneys at Burnetti, P.A. work hard to lessen these feelings by helping clients with treatment and keeping them informed about the progress of their case – all while providing expert, ethical and aggressive legal representation.
Accident attorneys at Burnetti, P.A. are available to provide representation at the earliest possible stages after an injury and will be there for every step of the claim. To maximize monetary recovery in the litigation process, the firm's personal injury attorneys investigate the evidence, liability, and damages of each accident or incident.
If you have been injured or lost a loved one due to negligence, you should not have to feel intimidated by the insurance companies or uncertain about what to do next. Burnetti, P.A. offers clients guidance for filing claims with insurance companies and negotiates with the insurance company or negligent party.
Birth Injury
The birth of a child is a wonderful and joyous occasion. Though more than four million babies are born every year in the United States, a birth should not be viewed as routine by any medical practitioner, as traumatic injuries may occur during delivery. Although some injuries may not be preventable, medical negligence or medical malpractice may contribute to some injuries, permanent disabilities or even death.
If you believe negligence or malpractice caused your child a birth-related injury, contact Burnetti, P.A. for a free consultation.
Childbirth Complications
Pregnancy complications during childbirth may result in birth trauma. Some of the most serious birth injuries include:
Cerebral palsy
Erb's palsy
Facial paralysis
Child brain damage
Orthopedic injury
Fractures
Spinal cord damage
Brachial plexus palsy
Temporary paralysis
Group B Strep
An injury law firm can help determine what may have happened during pregnancy and birth that contributed or caused an injury. By reviewing medical records, including prenatal care, delivery, and after delivery care, and by consulting with experts, a birth injury lawyer can help analyze how a child was injured during the birth process, including if there was a delivery room error; if the harm was preventable; and if the nurse practitioner, midwife, anesthesiologist or doctor may have been negligent in your child's birth.
Birth traumas can cause permanent physical damage, plus severe emotional and financial distress for the injured child and family members. Because of this, Burnetti, P.A. works hard to ease the worries and concerns of birth injury clients.
How Can A Personal Injury Lawyer Help You?
Burnetti, P.A. is positioned to assist clients by partnering with experts in the medical community to assess the long-term care needs, plus providing aggressive representation to obtain the financial resources and peace of mind in knowing that a child will be cared for throughout their entire life.
A traumatic brain injury (TBI) can cause physical and emotional trauma, altering the victims' everyday routine and often limiting their ability for an independent lifestyle. At Burnetti, P.A., we understand how devastating this can be to the individual and their family, and are committed to helping brain injury victims. If someone else's negligence caused a TBI, a head injury lawyer at Burnetti, P.A. can provide quality counsel and be the voice for the injured.
Symptoms Of Traumatic Brain Injuries
Physically surviving a traumatic brain injury is the first step in an often lifelong process of adjustment. A traumatic brain injury can impact survivors physically and mentally and often results in permanent, irreversible damage.
Brain injuries are classified as open head injuries and closed head injuries. Open head injuries occur when foreign objects penetrate the brain matter. Closed head injuries occur when the brain connects with the skull. Due to the silent nature of closed head injuries, they may not be immediately noticed by a treating doctor or other medical personnel.
Tests may come back negative for an injury even though the damage is there and the victim is suffering. Symptoms may range from moderate to severe and cause thinking changes, physical changes, and personality and behavior changes, including:
Loss of voluntary or involuntary motor functions
Coordination problems
Paralysis
Focus problems
Change in behavior
Loss of thinking and reasoning abilities
Impulsive behavior
Difficulty controlling emotions
Memory loss
Restlessness
Excessive sleep
Sensory (i.e. smell, taste) loss
Depression
Anxiety
Frustration
Confusion
Difficulty coping with stress
Post-traumatic stress disorder
Aggression and irritability
Loss of life
Types Of Head Injuries
Various types of head injuries may produce TBI symptoms, including:
Diffuse Axonal Injury: Shaking or strong rotation of the head
Concussion: Blow to the head, including blunt trauma, violent shaking or force from a whiplash injury that causes stretched blood vessels and damaged nerves
Contusion: Bruise to the brain, received from a direct impact to the head
Coup-contrecoup: Contusion sustained on one side of the brain, and on the direct opposite side
Recurrent Traumatic Brain Injury: A brain injury sustained before another one has finished healing
Locked in Syndrome: Rare condition that only allows your eyes to move
Causes Of Brain Injuries
If someone has been involved in an accident, you may not be able to determine if they have sustained a brain injury just by looking at them, and symptoms may start to appear several days after an accident. Common types of accidents that result in brain injuries are:
Defective or faulty products
Falls
Personal Injury Legal Help
If negligence is suspected as causing a car accident, construction site accident, or other type of accident, injury attorneys can review the accident information, including impact speeds, damage to cars, seat belt use, airbag deployment, defective parts or products, adherence to safety rules and procedures, and other factors that may prove negligence.
If a victim seeks medical help following an accident, medical personnel may conduct numerous tests, including an MRI, CAT scan, DTI scan, PET scan, or another diagnostic measure; however, some traumas and injuries may not appear on these tests. An experienced brain injury attorney will know how to navigate the medical procedures and coordinate additional medical testing and consulting.
Contact A Florida Personal Injury Law Firm
Burnetti, P.A. strives to be your "law firm for life." The firm's efforts go beyond the client-attorney relationship, and the team works hard to encourage a lasting relationship through outstanding client service.
To discuss your potential claim with a FL personal injury lawyer serving clients in Tampa, Lakeland, Orlando and across Florida, call

(888) 444-8508

or fill out the free case evaluation form today.

What Sets Us Apart?
Reasons to Trust Burnetti, P.A. with Your Case
A Proven Record of Results

We have recovered millions of dollars for our clients, including many multi-million-dollar verdicts and settlements.

A Culture of Customer Service

We treat all of our clients like family, requiring regular calls to clients in an effort to promote the best possible client experience.

Decades of Unwavering Service

Our firm has proudly served injured people throughout the state of Florida for over 25 years, and we're just getting started.

A Network of Support

We help clients find doctors, deal with insurance companies and recover compensation for medical bills and lost wages.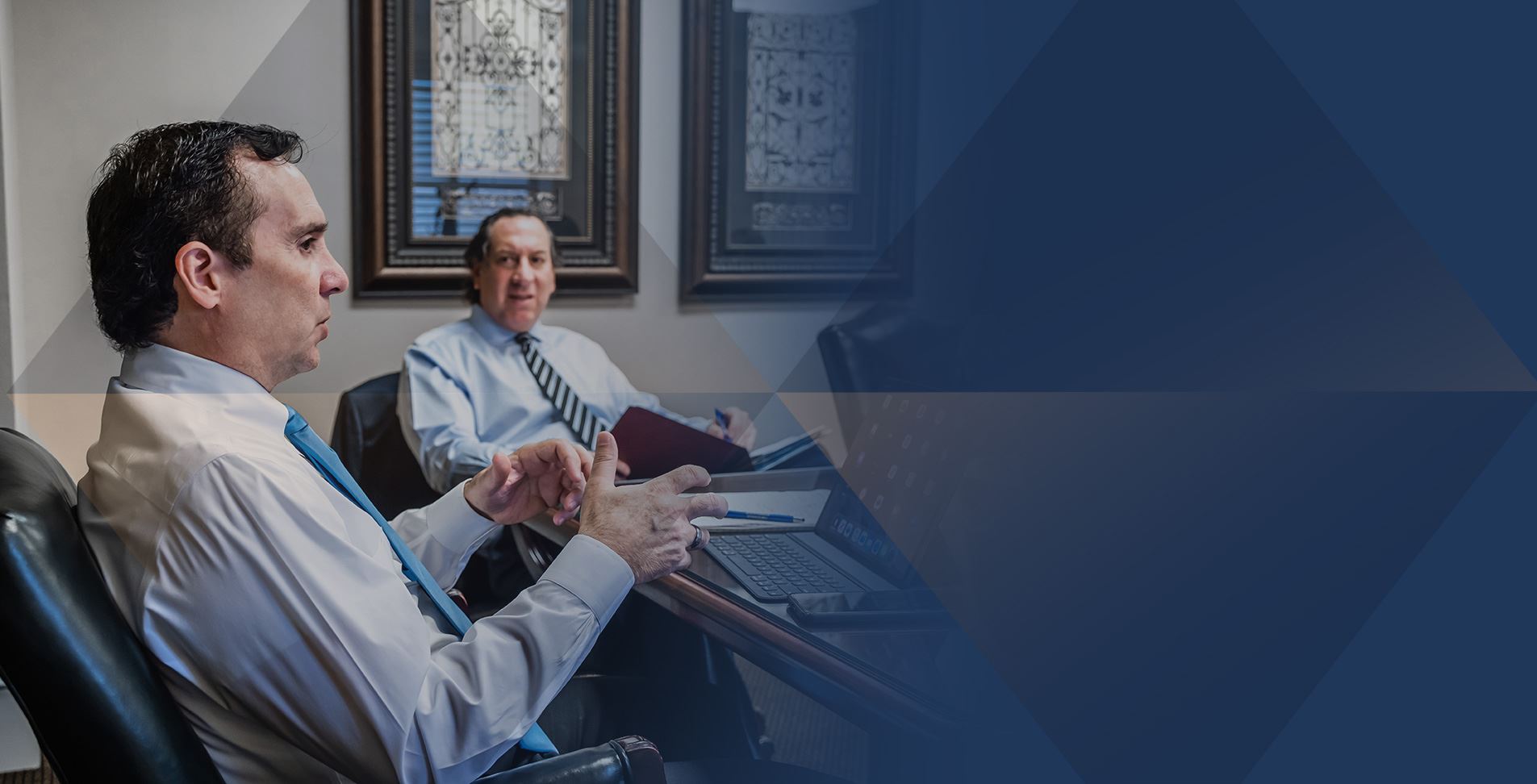 Our Testimonials
Hear From Clients Across the State of Florida
- Michelle M.

- Jeannette D.

- Gerard E.

- Evelyn B. R.

- Chuck S.