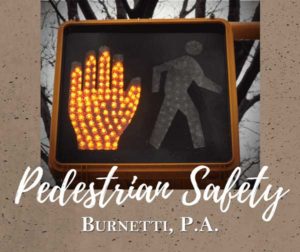 Florida is the nation's most deadly state for pedestrians, according to a recent report by Smart Growth America. Florida claims seven of the ten most dangerous metropolitan areas for pedestrians, including the cities of Orlando, Lakeland, and Tampa. The Orlando, Kissimmee, and Sanford areas were rated third most dangerous. The Lakeland and Winter Haven communities were rated sixth and Tampa, St. Pete, and Clearwater were rated seventh.
While many cities have adopted plans to help improve street safety, such as adding better lighting and beacon crossings, pedestrians can also follow these safety tips to help keep them safe.
Be Visible
When walking at night make sure to use a flashlight
Cross streets in well-lit areas
Use crosswalks
Stand clear of obstacles that could block you from a driver's view
Make eye contact with drivers whenever possible to ensure they see you before you walk in front of them
Be Alert
Use the sidewalk whenever possible
Do not assume that vehicles will stop
Pay attention to backup lights and engine noise
Do not walk and text at the same time – put your phone away
Do not wear headphones
Be Careful
Obey pedestrian traffic signals
Do not just rely on pedestrian walking signals – look both ways before crossing into traffic
Be diligent to look for turning vehicles – make sure the driver notices you and will stop for you to cross
Make sure you have a clear path on all lanes before stepping into the road
Do not assume motorists in every lane will stop for you even if one does
Stay sober
A pedestrian's eyes and ears are key tools in preventing accidents. Always pay attention to what is happening around you, especially when you are crossing busy intersections and streets.
When a driver pays more attention to their phone than their driving, they can cause an accident leaving victims with medical bills and serious injuries. If you were injured by a distracted driver or a negligent driver, Burnetti, P.A.'s pedestrian accident lawyers may be able to help. Call (888) 444-8508 for a no-obligation free case review.