Medical Malpractice Lawyers Serving Sebring FL
Medical malpractice is negligence that results in an injury or loss of life because a doctor, nurse, surgeon, hospital, dentist, psychiatrist or other health care professional or entity failed to administer adequate treatment to a patient. Health practitioners are obligated to provide a standard level of care, skill or diligence that should be reasonably expected under the applicable circumstances; if they are negligent and fail to adhere to standard practices, resulting in a patient's injury or death, a medical malpractice attorney may be able to pursue a claim on behalf of a victim for monetary compensation for lost wages, medical bills, and pain and suffering.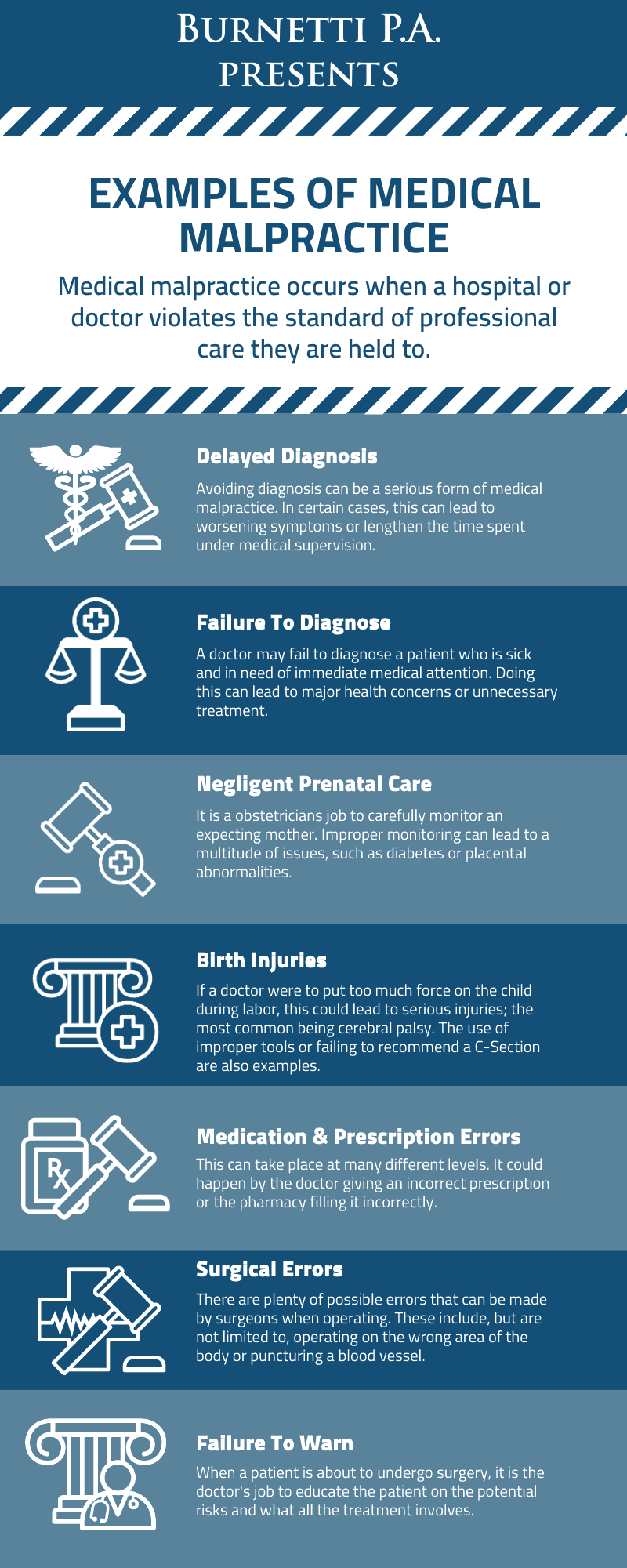 Top Ten Medical Mistakes
Burnetti, P.A. assists clients in malpractice claims. There are various types of medical malpractice and negligence:
Mistake: Wrong Patient is Treated
– Hospital staff does not verify the patient's identity resulting in similar name confusion
Mistake: Operating on the Wrong Body Part
– A surgeon misreads the patient's chart or the chart is incorrect resulting in unnecessary surgery
Mistake: Hospital Infections
– Doctors and/or nurses fail to properly wash before surgery resulting in infections
Mistake: Souvenirs from Surgery
– Doctors and nurses fail to count or miscounts tools and equipment resulting in surgical instruments remaining inside the patient
Mistake: Waking Up in Surgery
– A proper dose of anesthesia is not used resulting in the patient waking up during surgery and experiencing the pain of the procedure while remaining immobile
Mistake: Fake Doctors
– Con artists posing as licensed physicians resulting in improper medical treatment
Mistake: Tubes that Look Similar
– A nurse mistakes a chest tube for a feeding tube resulting in improper medicine going to the heart
Mistake: ER Wait Times
– Hospitals become overcrowded and do not have enough patient rooms resulting in patients getting sicker while waiting
Mistake: Air Bubbles in Blood
– A doctor or nurse removes a chest tube and does not seal it airtight resulting in air bubbles in the blood and cut off blood supply to the patient's major organs
Mistake: Patients Getting Lost
– Lack of proper care and supervision by nurses resulting in patients with dementia wandering and becoming trapped
Other types of medical malpractice may include birth injuries, emergency room errors, HMO negligence, misdiagnoses, failure to inform a patient about potential prescription drug risks, or other actions where the medical professional fails to competently perform their medical duties.
Medical Malpractice Lawsuits
Medical malpractice law allows injured victims to seek compensation if a negligent party or entity caused an injury or death. If the patient's injury is too severe or if the victim passes away, some members of the patient's family may be able to pursue a medical malpractice claim. To obtain justice and compensation for a medical malpractice case, proof of negligence is required. Determining who is liable in medical malpractice cases may be complicated – it may be the doctor or another medical professional that caused harm to the patient, or it may be a city or state-owned hospital. An experienced injury attorney can evaluate a potential malpractice claim and help prove who is legally responsible.
When To File A Medical Malpractice Claim
Florida has a statute of limitations for medical malpractice lawsuits. To receive maximum compensation, a claim must be made within a certain period of time after the potential negligent injury is discovered. Contacting a medical malpractice lawyer at Burnetti, P.A. as early as possible may help ensure that deadlines are not passed.
Contact Medical Malpractice Lawyers In Sebring, FL
The medical malpractice lawyers at Burnetti, P.A. are experienced in medical malpractice claims and ready to take a case to trial if necessary.
For a free malpractice consultation, call

(863) 777-4431

.

What Sets Us Apart?
Reasons to Trust Burnetti, P.A. with Your Case
A Proven Record of Results

We have recovered millions of dollars for our clients, including many multi-million-dollar verdicts and settlements.

A Culture of Customer Service

We treat all of our clients like family, requiring regular calls to clients in an effort to promote the best possible client experience.

Decades of Unwavering Service

Our firm has proudly served injured people throughout the state of Florida for 30 years, and we're just getting started.

A Network of Support

We help clients find doctors, deal with insurance companies and recover compensation for medical bills and lost wages.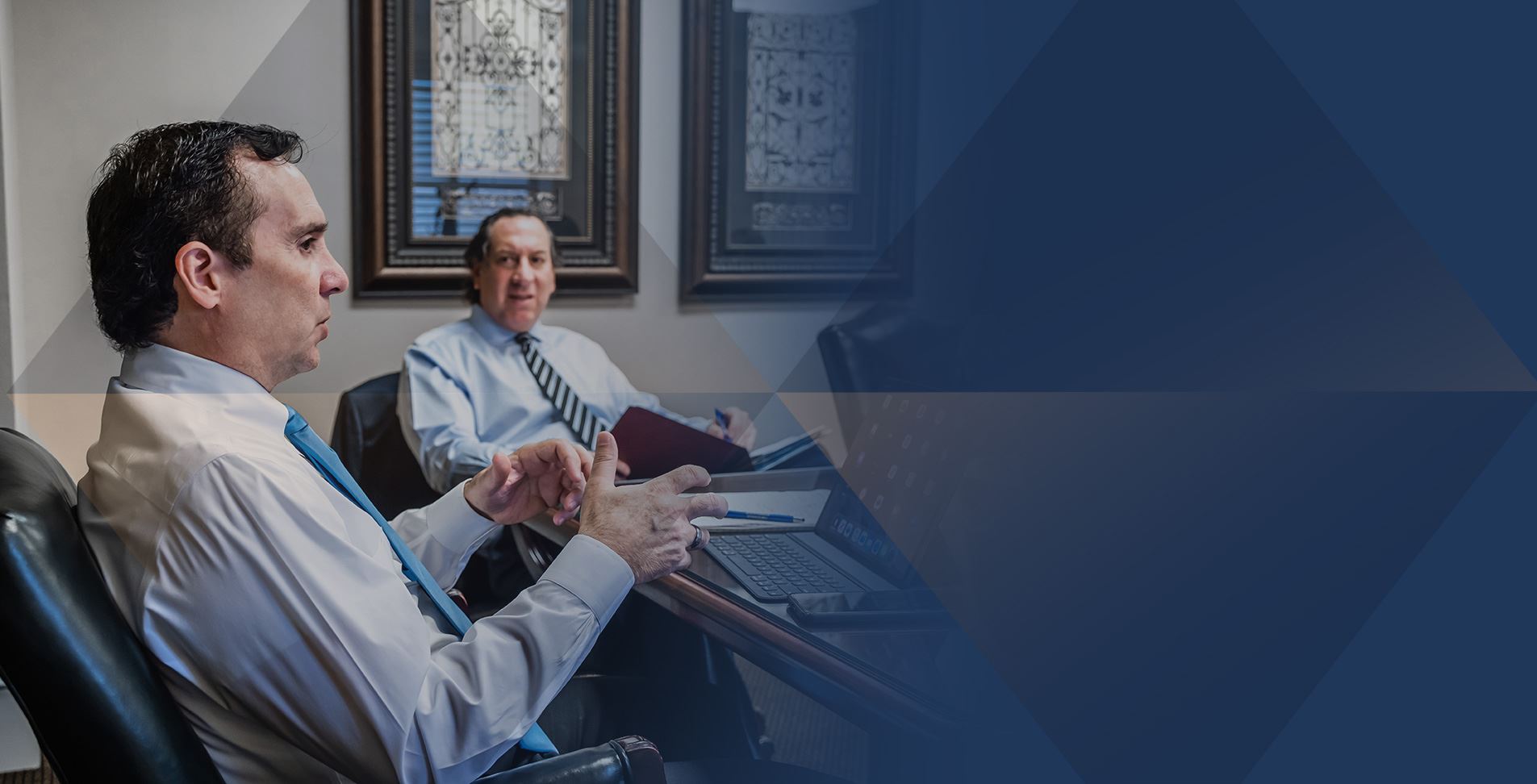 Our Testimonials
Hear From Clients Across the State of Florida
- Michelle M.

- Jeannette D.

- Gerard E.

- Evelyn B. R.

- Chuck S.