St. Petersburg Nursing Home Abuse
Nursing homes are popular in the state of Florida, particularly because many people across the nation – and sometimes the world – come to the Sunshine State to live out their golden years. Indeed, the Florida HealthCare Association reports there are nearly 700 nursing home facilities in the state representing more than 83,000 beds. It can be hard to watch your loved one's age, but it is even more difficult to learn that the very people in charge of caring for them during their final years are mistreating them. There are several laws mandating specific levels of care for residents of nursing home facilities in order to prevent any nursing home abuse or neglect.
Florida Nursing Home Statistics
The Agency for HealthCare Administration reports that Florida nursing homes are occupied at 85 percent at any given time, resulting in approximately 73,000 senior residents. There are more than 3,000 licenses Assisted Living Facilities (ALFs) in Florida, representing nearly 100,000 beds. Almost 40 percent of long-term care spending is paid for with private dollars while Medicare pays for 19 percent of long-term care spending and Medicaid pays for 60 percent of long-term care spending. The average length of stay for a nursing home resident differs: Medicare patients stay approximately 33 days while Medicaid and private pay patients stay an average of 386 days.
What Is A Nursing Home?
According to the Florida Department of Elder Affairs (FDEA), nursing homes are residential facilities where a person – usually someone who is elderly – can reside temporarily or permanently. A temporary stay typically involves respite care or recuperation after a medical condition required hospitalization. Nursing home-related services often include:
24-hour a day nursing care;
Health monitoring;
Case management;
Assistance with personal care such as bathing, eating, dressing, walking, or physical transfer;
Nutritional meals and particularized diets;
Occupational, physical, and/or speech therapy;
Social activities for residents;
Temporary supervision of the adult patient (respite care).
Of note, a physician must authorize a nursing home admission and sign off on the care plan.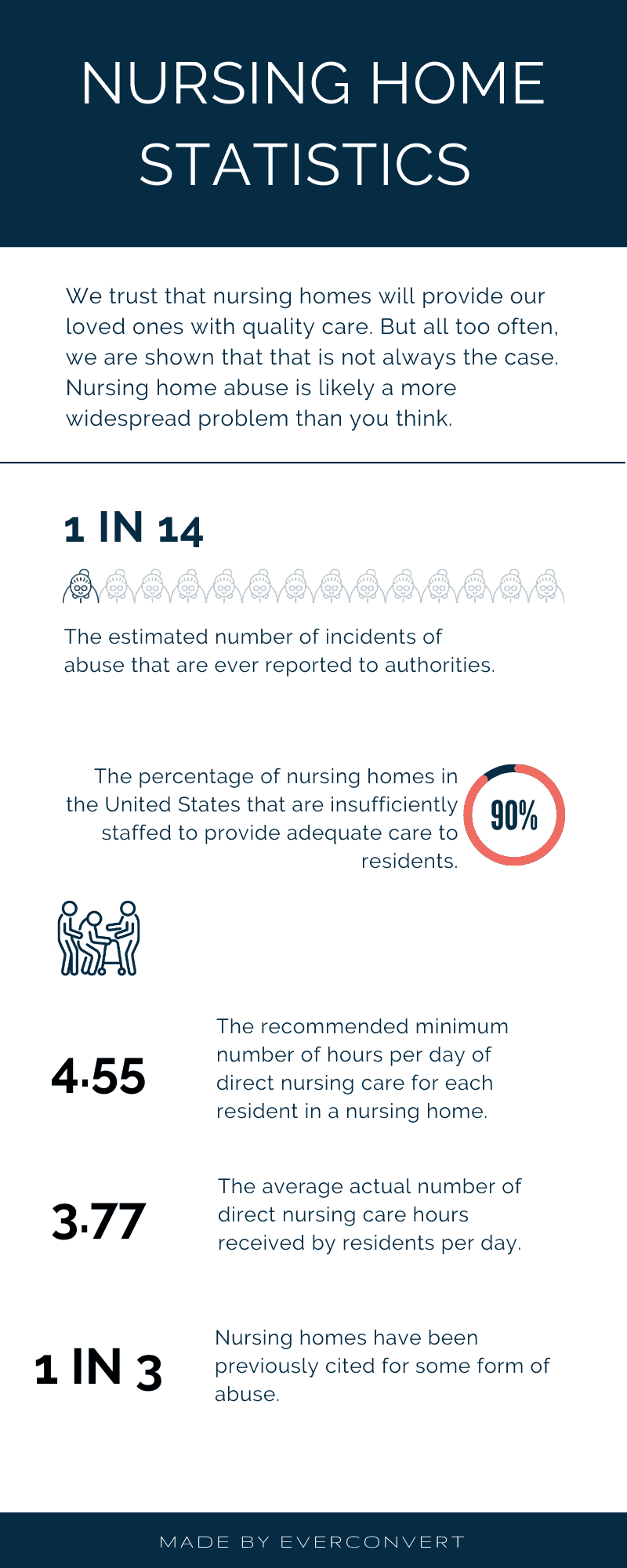 Nursing Home Abuse In St. Petersburg
Nursing home abuse happens when a facility fails to provide health care to a resident that conforms with the generally accepted standards within the medical community. Some examples of nursing home abuse include:
Understaffing and/or negligent hiring: A nursing home facility has a legal duty to hire an adequate number of nurses as well as other staff members so that all residents receive quality care. If patients receive substandard care because of understaffing or unqualified staff nursing home abuse is likely to present;
Negligent care: Because nursing home staff owe a duty to adhere to the healthcare standards that are established by the medical profession, a facility may be acting negligently if these accepted standards are not followed. Examples of negligent care in a nursing home include failure to maintain sanitary conditions, assist with personal hygiene, prevent dehydration, and poor access to medical services;
In-home care negligence: Sometimes an elderly loved one requires in-home care. Nurses and other in-home care providers can be held responsible for negligent or abusive behavior that happens inside the home; and
Mental, physical, or sexual abuse: Taking care of the elderly and sick can be difficult. Unfortunately, behavior against seniors in the form of physical, sexual, or mental abuse does happen. Examples include shoving, force-feeding, hitting, requiring residents to stay in their rooms, and even the inappropriate use of physical restraints, yelling, name-calling, and unwanted physical sexual contact.
The Signs Of Nursing Home Abuse In Florida
If your elderly loved one displays any of the following symptoms, he or she may be a victim of a St. Petersburg nursing home abuse:
Frequent falls
Frequent bruising
Unexplained injuries
Bedsores
Sudden weight loss
Dehydration
Constant hunger
A sudden change in alertness
Depression
Lethargy
Unexplained withdrawal from social activities
The disappearance of valuables or money
Paranoia
Excessive crying
Changes in thought patterns
Bruises on wrists, ankles (or other signs of inappropriate restraint)
Unsanitary living conditions, as well as the nursing home staff's inability to sufficiently explain a change in your loved one's medical condition, can also be signs of abuse. Unfortunately, many Florida nursing home residents do not report abusive behavior due to fear embarrassment or even fear of retaliation by the caregiver or facility.
Nursing Home Abuse Law In Florida
There are specific legal requirements put in place in Florida that protects residents' rights – to include cases where loved ones are placed in a nursing home facility. Known as the "Resident Bill of Rights," these requirements mandate zero tolerance for neglect and abuse in nursing homes and assisted living facilities. Some of the rights a St. Petersburg nursing home abuse attorney can explain to you about your loved ones include the right to:
Be free from mental or physical abuse;
Receive appropriate and adequate healthcare;
Receive supportive and protective services;
Be treated fairly, courteously, and with the fullest measure of dignity;
Be informed of his or her proposed treatment medical condition;
Refuse medical treatment and be informed about the consequences;
Present grievances;
Participant or organize in resident groups;
Religious and civil liberties;
Present grievances;
Have privacy in caring for personal needs and treatment;
Manage his or her own personal finances;
Examine the results of the facility's most recent inspection report;
Participate in the planning of all of his or her own medical treatment;
Right to choose which personal physician to use;
Copies of the facility's rules and regulations;
Information regarding the facility's bed reservation policy; and
Receive notice of the facility's regulations and rules.
Beyond Florida state law, there are also federal statutes that govern the care of residential nursing facilities that must be met in order to receive government funding to operate the business.
Seek Legal Guidance From Experienced St. Petersburg Nursing Home Abuse Attorneys
The experienced St. Petersburg nursing home abuse attorneys at Burnetti, P.A. have been fighting for justice on behalf of Florida victims for over 25 years. If you believe that a loved one's illness, injury or untimely death is the result of nursing home abuse or neglect, talk to an attorney right away.
Schedule your initial case evaluation with of our skilled attorneys today.

What Sets Us Apart?
Reasons to Trust Burnetti, P.A. with Your Case
A Proven Record of Results

We have recovered millions of dollars for our clients, including many multi-million-dollar verdicts and settlements.

A Culture of Customer Service

We treat all of our clients like family, requiring regular calls to clients in an effort to promote the best possible client experience.

Decades of Unwavering Service

Our firm has proudly served injured people throughout the state of Florida for 30 years, and we're just getting started.

A Network of Support

We help clients find doctors, deal with insurance companies and recover compensation for medical bills and lost wages.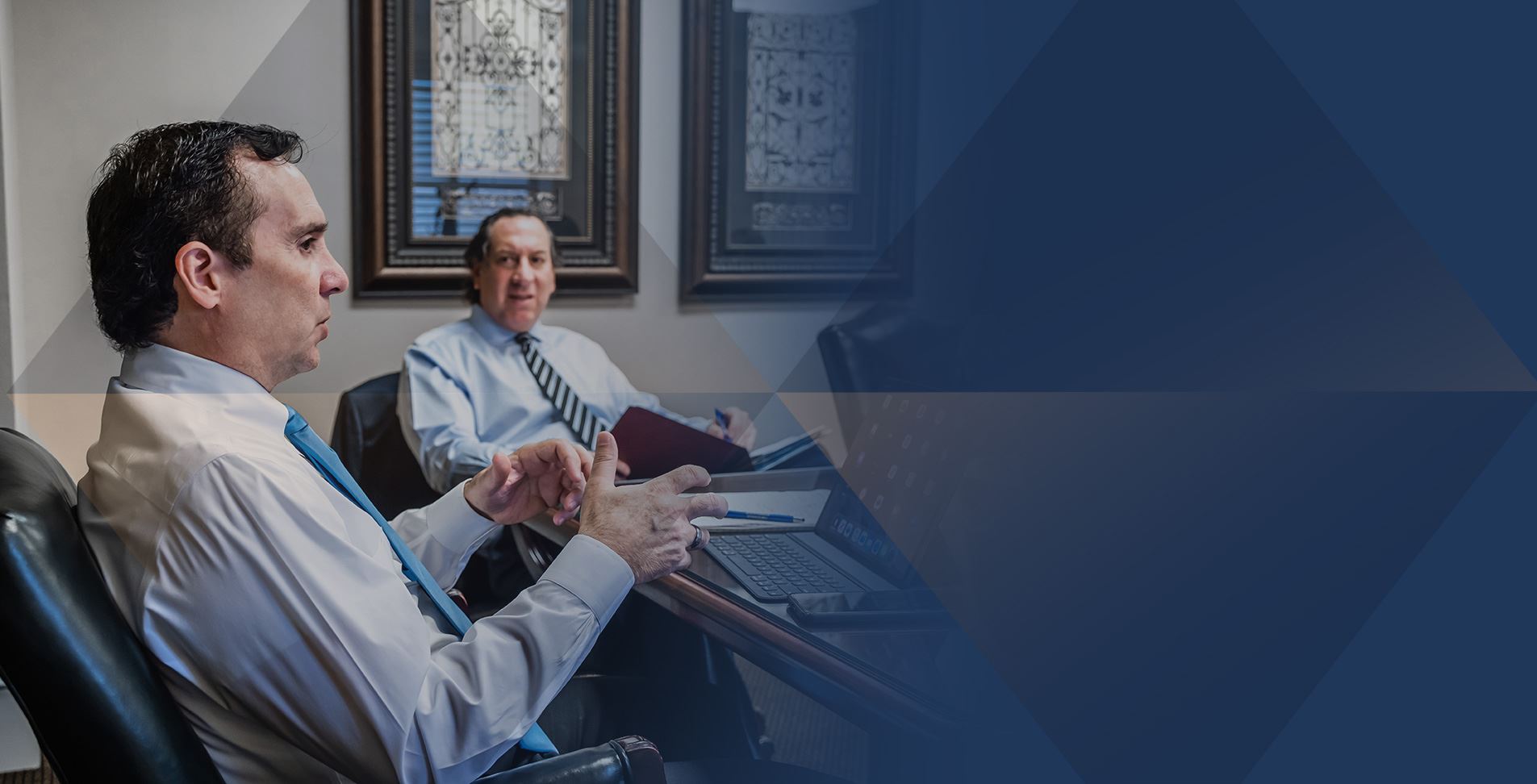 Our Testimonials
Hear From Clients Across the State of Florida
- Michelle M.

- Jeannette D.

- Gerard E.

- Evelyn B. R.

- Chuck S.