St. Petersburg Workers Comp Lawyer
If you've been hurt at work, you'll probably file a worker's comp claim. You expect to receive compensation for your injuries. You're assured that you'll receive quality medical care. You have no reason to think you won't be paid for time missed from work.
In Florida, just like every other state, you're entitled to receive workers compensation if you get hurt at work. However, workers comp is meant to be a temporary solution. It's not meant to be permanent. And usually, you don't receive as much as you think you will. In fact, you won't receive anything until your claim is approved. Even after it's approved, it could take weeks for your benefits to kick in.
If you're hurt at work, you have to report your injury to Human Resources. You also need to make sure you seek medical treatment. You can't just go to your family doctor. Lastly, you need to go to an approved worker's comp doctor.
An experienced workers comp lawyer will fight to get you the compensation you deserve. Your human resources manager should be on your side, but at the end of the day, they work for your employer. It's their job to save the company money. They'll try to get you back to work as soon as possible. It's your worker's comp attorney's job to make sure you don't return until you're completely healed.
You basically have two choices: You can either file your claim and hope for the best or you can contact a St. Petersburg workers comp lawyer.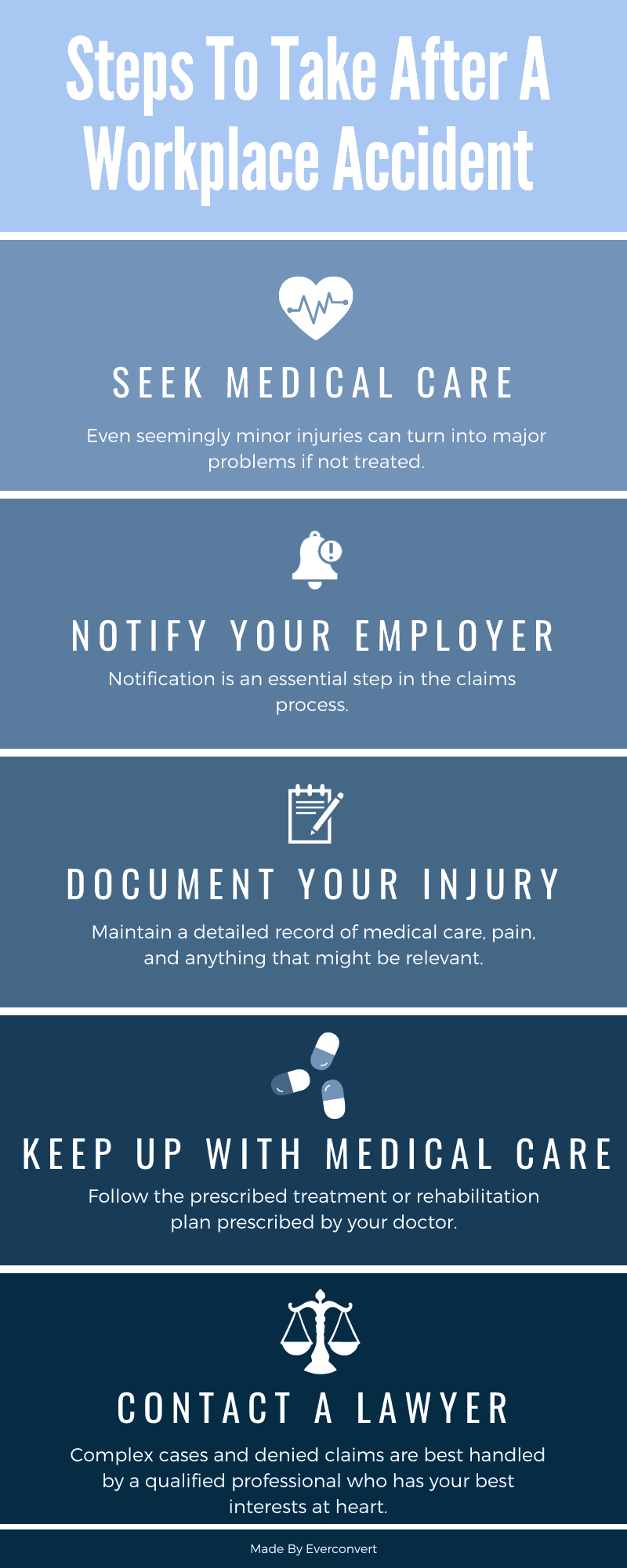 How Can A St. Petersburg Workers Comp Lawyer Help?
Workers comp can be confusing. Your worker's comp St. Petersburg attorney can help you navigate the worker's comp system. They'll be with you from the time you get hurt until you go back to work.
You should know how workers comp works in Florida. First, you need do is file a worker's comp claim. Your employer will submit it to their insurance carrier. The insurance company will then determine if they're going to pay your claim. They'll review your case and decide how much you'll receive and for how long.
Workers Comp Benefits: In Florida, your worker's comp weekly benefits are about 2/3 of your normal wages. The cap on weekly benefits is $917. There are special rules about certain injuries, such as paralysis. In these cases, you'll receive 80% of whatever your earnings were. There is no cap on these benefits.
Your benefits will continue until one of three things happen:
Your doctor says you're ready to go back to work
Also, your doctor says you aren't going to get any better
You've reached the maximum time to receive benefits (2 years)
Claim Denied: If your claim is denied, you'll have to file a Petition for Benefits. Before you do this, your worker's comp lawyer will talk to your employer and try to get your claim approved. Once the employer knows you have a lawyer, they may be more likely to approve your claim.
Once you file your Petition for Benefits with the court, they'll order you to attend mediation. The goal of mediation is to get your case settled with the employer. If you can't settle the matter, your case will go before the court. You won't actually go to court. Your case will be decided based on the written record. This is why it's so important that your attorney file your petition properly.
If the court approved your petition, you'll start receiving your benefits.
If your petition is denied, your attorney can help you apply for disability. There's no guarantee that you'll be approved. It's important that you have an experienced attorney by your side during this process.
Your St. Petersburg Workers Comp Lawyer Can Help You Get Permanent Disability Benefits
If your worker's comp claim is denied, you should apply for disability. Depending on your injuries, you may qualify for either short-term or permanent disability. The question is whether or not you'll be able to work again.
The social security/disability office looks at several factors when determining if you are entitled to disability benefits, including:
How serious are your injuries?
Are you able to work in your previous job?
Are you able to work at all?
Also, are you earning $1,000 or more per month?
Are you able to perform normal, daily activities?
How long have you been disabled?
Will you be disabled for at least 1 year?
If you meet these requirements, you should qualify for disability. Disability is short-term. The goal is to get you back to work. You have to suffer one of the qualifying conditions in order to receive disability benefits. Most states follow the same rules. The list of the conditions that are severe enough to entitle you to disability include:
Loss of vision and inability to speak
Respiratory illnesses
Cardiovascular illnesses
Digestive tract problems
Immune system disorders
Neurological disorders
Musculoskeletal problems
Your attorney is familiar with these conditions. They have handled dozens of cases just like yours. Trust that your St. Petersburg workers comp lawyer will do his best to get you the benefits you deserve.
St. Petersburg Workers Comp Attorneys Handle All Types Of Workers Comp Injuries
There are all sorts of injuries you can suffer at work. As long as the accident takes place while you're on the clock, it should be covered under worker's comp. There are a few requirements you must meet in order to qualify for workers comp insurance:
You must be working at the time your injury occurs or the illness begins
You must be working within the scope of your employment. For example, if you're a cashier and you get hurt unloading a truck, you could have a problem. Unless you were specifically instructed to unload the truck, your employer may argue that you weren't working within the scope of your employment. They'll argue that you weren't hired or trained to unload a truck. Your worker's comp lawyer will challenge these claims.
You have to prove that you were in fact injured
You must show that your injury prevents you from doing your job. If you work a desk job, you probably won't qualify for workers comp if you break your toe. Breaking your toes doesn't prevent you from doing your job.
Be careful of a pre-existing condition. A pre-existing condition doesn't automatically prevent you from getting workers comp. However, your employer will argue that they aren't responsible for your injuries.
You have to be injured in order to receive workers comp benefits. Some of the most common injuries covered under workers compensation include:
Back Injuries: There are many ways you can injure your back. You can fall and slip a disc. You can get in a car accident and end up with a spinal cord injury. Also, you may just strain your back from picking up heavy boxes week in, week out. Some back injuries are minor and only require physical therapy or pain management. Others are severe and require surgery followed by many months of care. Either way, you are going to be out of work. You may be out of work for weeks or even months. The injury may be so severe that you aren't able to work ever again. Your worker's comp attorney will fight hard to get your benefits for as long as possible. He will also fight to get you full benefits rather than partial benefits.
Occupational Diseases: there are advertisements every day on television for cases involving occupational diseases. These may be as serious as cancer or as minor as slight respiratory infections. Either way, they entitle you to compensation under Florida law. If the disease is a direct result of your job, you are entitled to be covered under Florida's worker's compensation law. Proving your case can be very difficult. You certainly don't want to do this on your own. You will want an experienced worker's comp lawyer by your side.
Brain Injuries: A lot of workers suffer brain injuries every year. They are typically caused by work-related car accidents and serious falls. When your brain suffers a severe impact or blow, you are liable to suffer a traumatic brain injury. These injuries can cause several issues, including:

Hearing and vision loss
Fatigue and insomnia
Long-term and short-term memory loss
Vertigo
Ringing in the ears
Impaired motor skills

Knee Injuries: Aside from back injuries, knee injuries are the most common type of work-related injury. They are common in just about any blue-collar type job. The older we get, the more likely we are to suffer knee injuries. However, depending on the type of work you do, you can suffer a serious knee injury regardless of your age. Some serious knee injuries include:

ACL tears
Fractures
Tendinitis
Meniscal tears
Dislocation

Neck Injuries: Neck injuries are some of the most serious types of work injuries. This is because not only are they painful, but they can be life-threatening. They can also be life altering. Depending on how severe the neck injury, you may require surgery and months (or years) of aftercare. Some neck injuries are minor such as whiplash or muscle strains. There are many more serious injuries such as broken necks, nerve damage, and paralysis. You want to have an experienced workers comp lawyer by your side so that you can have the best chances of getting the compensation you need to survive.
Carpal Tunnel: We hear all the time about carpal tunnel syndrome. It is very common with people who type or work with their hands. Casino dealers and truck drivers suffer from it all the time. So do mechanics and electricians. Any profession where you constantly have to use your hands can experience carpal tunnel syndrome. The only real treatment is surgery. It is the only way to relieve the pressure on the nerves in that area of your hand. It is hard to get paid for the carpal tunnel under workers comp because it is easy to argue that it took years to get the injury. If you have only been working for a company for a few months or a year, it will not be easy to prove your injury is directly related to that job.
If you've suffered any of these injuries, you need to contact an experienced St. Petersburg workers comp lawyer.
Contact A St. Petersburg Workers Comp Lawyer
If you get hurt at work, you need to contact an experienced St. Petersburg workers comp attorney. Workers compensation law can be confusing. Getting approved for benefits is the easy part. Once you receive your benefits, the insurance company will be looking for you to return to work.
If your doctor claims you are permanently disabled, your lawyer will have to prove the percentage of your permanent injuries. This is what will determine how much your permanent worker's comp benefits are.
Most people settle their worker's comp claims. It's cheaper for insurance companies and more convenience for everybody. Rather than receive weekly benefits for years, you can get a lump sum to settle your claim outright. Your settlement amount represents whatever permanent disability you've suffered as a result of your work accident.
There are a few things you want to be careful of while you're receiving your worker's comp benefits. Don't miss any of your doctor's appointment. Attend all workers comp meetings and appointments. If you don't, you may jeopardize your claim entirely.
Your worker's comp attorney will make sure you meet all of the technical requirements for your claim. They will deal with your employer and the insurance company. They'll make sure there are no gaps in your medical coverage or weekly benefits.
Your St. Petersburg workers comp lawyer at Burnetti, P.A. knows how to navigate the courts. He'll focus on the legal side of things. You focus on getting better. Your initial consultation is free and your lawyer will answer any questions and concerns you may have.
The insurance companies have attorneys working for them. You should as well. You don't want to go up against the other side alone. There is too much at stake.

What Sets Us Apart?
Reasons to Trust Burnetti, P.A. with Your Case
A Proven Record of Results

We have recovered millions of dollars for our clients, including many multi-million-dollar verdicts and settlements.

A Culture of Customer Service

We treat all of our clients like family, requiring regular calls to clients in an effort to promote the best possible client experience.

Decades of Unwavering Service

Our firm has proudly served injured people throughout the state of Florida for 30 years, and we're just getting started.

A Network of Support

We help clients find doctors, deal with insurance companies and recover compensation for medical bills and lost wages.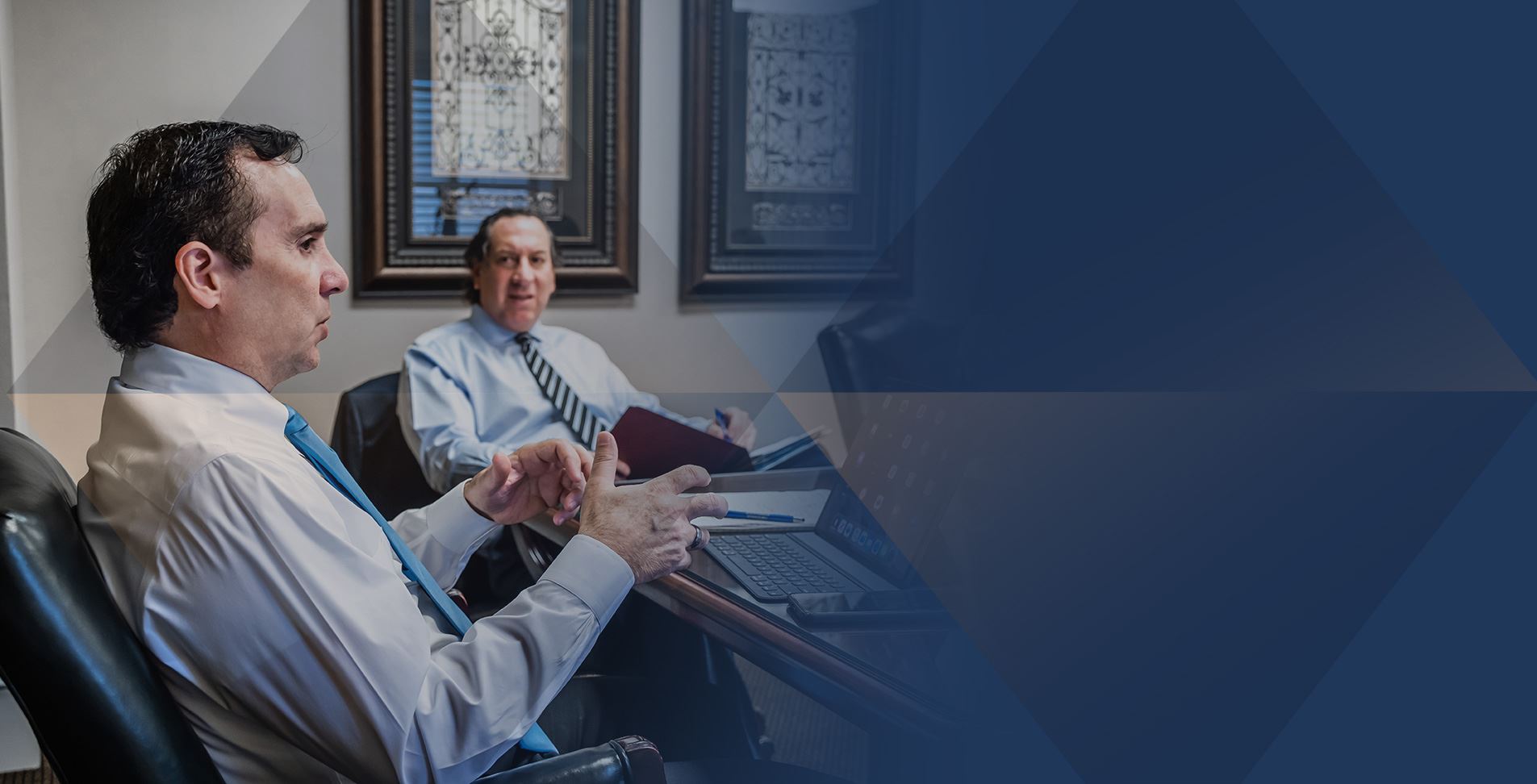 Our Testimonials
Hear From Clients Across the State of Florida
- Michelle M.

- Jeannette D.

- Gerard E.

- Evelyn B. R.

- Chuck S.