Worker's Compensation Attorneys Tampa, FL
Most work-related injuries, diseases, illnesses, and even deaths that occur in the Sunshine State fall under the state workers' compensation laws. Workplace injury law for Tampa Florida state workers comp can be complicated, it would be in the best interest of a worker that sustained an on the job work injury or job injury related to the job, to seek the advice of a Workers Compensation Lawyer in Tampa FL.
If it is a no-fault situation, which means staff doesn't have to show there was negligence in order to recover damages suffered. A worker should report their Tampa work-related injury to their supervisor within 30 days following the accident. This is important to be sure that the injured worker stays within the work injury settlement guidelines.
At that point, the worker has two years to proceed with a workers' compensation benefits claim following the initial injury report. Consider contacting a work injury lawyer much sooner than 30 days. Work injury lawyers at Burnetti law firm can provide you with a FREE consultation concerning your on the job work injury.
If you have suffered injuries while engaged in work duties at your place of employment in Tampa, you must understand how the Florida workers' compensation law works. The system's goal is to bypass the traditional method of civil proceedings, which could take several years, and that forces the injured victim to show proof of negligence with the help of an on the job injury lawyer otherwise known as a workers compensation lawyer.
The state workers' compensation system permits an injured worker to instead get part of their lost wages as well as some of their medical expenses in a generally fast manner while not having to prove negligence. Hurt workers often lose out on a number of the damages offered in alternative personal injury claims because they can't sue their employer in civil court. No damages for pain and suffering damages are permitted through Florida's workers' compensation system.
What Should A Tampa Worker Do If Hurt At Work?
If an accident has left you hurt or you have suffered injuries while working, you need to tell your supervisor about your injury as quickly as possible. According to state workers' compensation laws, you have only 30 days to report your accident or inform your employer of your injury before your right to file a claim is voided.
As you report your workers' comp claim, you must ask your leader what doctor you're permitted to see; solely doctors approved by your place of employment or the insurer are eligible for payment through the state workers' compensation system. Your employer can respond by telling you to contact the insurance company that takes care of their workers' compensation claims. If that happens, there ought to be a workers' compensation poster displayed in your place of work that contains the name and telephone number of the claims handler. These documents are posted in work areas, such as locker rooms or areas used for breaks.
Your place of employment has seven days according to state law to report your injury to their insurer. If your supervisor doesn't do this and doesn't offer to give you a telephone number to get in contact with the insurer, you'll need to contact the Florida State Division of Workers' Compensation hotline for facilitating, at 1-800-342-1741. You should also contact a workers compensation lawyer.
What If It Is An Emergency?
If it is an emergency and your supervisor hasn't informed you at that time where you can go for medical care or you are unable to contact your supervisor, you must head to the closest ER. When you're in a position to do so, you must let your supervisor know what is going on.
What Happens Once The Insurance Company Is Notified About Work-Related Injuries?
Most insurance firms can have an insurance adjuster contact you within 24 hours after you report the incident and the claim is filed so they can clarify your rights and responsibilities. If you miss this phone call, you need to call back so you will know what to do so you can continue getting the needed medical treatment. You might receive a leaflet in the mail 3 to 5 business days following your work-related accident being reported to the insurance company that reduces your rights and obligations in writing.
Not long after, you may receive an information packet, which contains a Notification Letter that explains the services that are offered by the worker help workplace Division of the Division of Workers' Compensation. In the packet, it is likely that there might be an accident report copy. You must review this initial Report of Injury or health problem and ensure it is completely correct. There can also be a Fraud Statement that you need to read through.
There will even be a waiver for release of your medical records that you need to sign and send back. You may receive medical mileage compensation forms to fill out and send to the adjuster for compensation. If you aren't contacted by the insurance company or receive a packet of information with some or all of those documents, you must contact the Division of Workers' Compensation hotline, at 1-800-342-1741, for help. If you have questions about this, our worker's compensation lawyer is able to help.
The Workers' Compensation Doctor
If you get medical attention for the work accident or other health problem, ensure you offer the doctor a full description of the incident or alternative circumstances that caused your condition. You must honestly answer everything the doctor asks regarding your medical record and your current condition. Ensure to ascertain with the doctor if your current injury is really associated with your job, and if the doctor agrees, he or she should confirm if you'll return to work or not.
In some cases, you'll be free to return to work however, you might be scheduled for "light duty" or similar, that means you cannot perform your regular job. If that's the case, the doctor should provide you with directions on what kinds of work you'll be able to perform and what you are unable to do. You must ensure it's put in writing for your supervisor. It is necessary that you go to all the appointments with the physician who is treating your injuries. Not continuing with treatment can impact your benefits and even get them suspended.
After The First Doctor Visit
After your first doctor visit, talk with your supervisor right away. Be honest and straightforward with your supervisor regarding what the healthcare provider said caused your injury or illness, and what duties you are unable to perform if you are allowed to work at all. You should have all this in writing from the doctor so you can provide your supervisor with a copy of the document.
Some injuries are more severe than others resulting in hospitalization. If you are put in the hospital because of your injuries, someone should contact your place of employment if at all possible to let them know what occurred. When you can, give your supervisor a doctor's note.
If the doctor lets you go back to work with restricted duties, ask your employer if there is work available for you to be able to perform. If there is work available that you can do, ask your supervisor when you are to come back to work. If no work is available that you can perform, give your employer a good contact number for you so they can call you as soon as work is available for you.
After making contact with your supervisor, contact the insurance company and make them aware of your injuries and work status per the doctor's information. Throughout your treatment and recovery process, you must keep regular contact with your place of employment and their insurance company.
What Benefits Can A Workers Compensation Lawyer In Tampa FL Help You Receive?
There are different kinds of compensation you might be eligible to receive if you are hurt on the job. You might be eligible for indemnity damages if can't return to work for a period longer than seven days. In those cases, you must be reimbursed a minimum amount for earnings that you lose. Your weekly benefits won't exceed the compensation amount for the year during which your health problem or work-related accident occurred.
Total Incapacity Coverage
If your medical provider says you are unable to work at all, you must receive two-thirds (66 2/3%) of your regular wages before you were injured, starting on your eighth day missing work. The initial seven days of lost work is paid at a lower rate based on the condition that you're out of work for more than 21 days. If injuries are severe, you'll get 80% of your regular pay for six months after your accident.
You can receive benefits for up to 104 weeks (two years) of temporary total disability or partial incapacity payments. For partial incapacity coverage, the rules and the time you are able to receive the benefits are identical. No matter which payment option, you'll receive up to 104 weeks (two years) of temporary incapacity, created of any combination of partial and total incapacity payments.
Impairment Advantages
You might be eligible to receive impairment benefits. After your doctor says you have reached your maximum recovery levels and you have recovered as much as possible, your doctor can then measure for any potential permanent work restrictions plus a permanent impairment rating. If you are given a permanent impairment rating, you might be eligible for financial advantages based on your rating.
Medical Treatment
If you adhere to the guidelines, your employer is responsible for taking care of your medical treatment needs. Medical care is important, so don't put off seeking medical attention. You must go to a physician approved by a workers' compensation insurer and not your regular medical provider. If the insurer or employer doesn't provide you with a list of approved medical providers, contact the state board for instructions.
Re-Employment Services
If permanent work restrictions are keeping you're from returning to your regular work duties, you might be able to get re-employment services from workers' compensation. If you have this problem, the worker's comp bureau and the Office/Reemployment Services Section will assist you with this. Services that you might be able to receive could include:
job options
job analysis
transferable skills analysis
job-seeking skills training
selective job placement
training and education
Plus, other services to help a hurt Tampa worker return to work.
Tampa Workers Compensation Attorney Vs. Insurance Company
Sometimes the insurance company fails to provide benefits that you should receive. If this is the case, you must attempt to settle the issue with the insurance adjuster, and if that doesn't work contact the adjuster's manager for further help. If the insurance company will won't agree to cover benefits which you think you are entitled to receive, file a Petition for Benefits (PFB) with the Office of the Judges of Compensation Claims (OJCC). At this point, you need to enlist the help of a Tampa workers compensation lawyer.
The jurisdiction of the OJCC begins with the filing of the PFB with the Central Clerking Office in Tallahassee. Once a case number is assigned, you can monitor the status of your case on the OJCC website. Once filed, your PFB will be scheduled for mediation, except in rare events, when a PFB is scheduled for an expedited final hearing.
Even if mediation is planned, a trial, or final hearing, might be scheduled simultaneously, or quite sometime after the mediation. This depends on the judge assigned to the PFB. There are some Judges who will set up the final hearings as soon as a petition is filed, while others set up final hearings following an unsuccessful mediation. A pretrial hearing takes place before any final hearing. A written exchange might be your pretrial hearing if you have a workers compensation lawyer in Tampa.
Are All Employers Required To Maintain Workers' Compensation Coverage?
Any employer who isn't in the construction business but has a team of four or more full -time or part-time employees must have Florida workers' compensation coverage. If you are in the construction industry and have any employees, you must have workers' compensation coverage. All government entities must have carry workers' compensation insurance protection for workers. A Florida farmer who has more than five regular employees or at least 12 seasonal workers working at least 30 days is required to maintain workers' compensation coverage.
To learn if your Tampa employer has workers' compensation insurance, contact the Employee Assistance and Ombudsman Office. To do your own search, visit the Division of Workers' Compensation's Proof of Coverage Database.
Requirements For Tampa Employers Under The Workers' Compensation System
If your Tampa employer must offer workers' compensation coverage, the company is responsible for offering medical treatment coverage through an insurer. This treatment includes care from an authorized primary physician and any medically necessary specialists. It must cover all medically necessary treatment authorized by a licensed medical professional, including physician visits, hospitalization, x-rays, and MRIs, physical therapy, prescription drugs, and medical supplies and devices. Mileage reimbursement for any medical visits to those on the approved list must be covered as well. If you believe your employer is violating the law with your compensation case, contact our worker's compensation lawyer.
Make sure that the doctor sends all bills to your place of employment for payment.
Get Help From An Experienced Tampa Workers Compensation Lawyer
If you need help with your worker's comp claim, contact the knowledgeable worker's compensation lawyer at Burnetti, P.A. in Tampa, FL. Our team of experts is here to help you navigate workers comp law and ensure you get the compensation you deserve.
Get a free consultation with a workers compensation attorney in Tampa FL today.

What Sets Us Apart?
Reasons to Trust Burnetti, P.A. with Your Case
A Proven Record of Results

We have recovered millions of dollars for our clients, including many multi-million-dollar verdicts and settlements.

A Culture of Customer Service

We treat all of our clients like family, requiring regular calls to clients in an effort to promote the best possible client experience.

Decades of Unwavering Service

Our firm has proudly served injured people throughout the state of Florida for 30 years, and we're just getting started.

A Network of Support

We help clients find doctors, deal with insurance companies and recover compensation for medical bills and lost wages.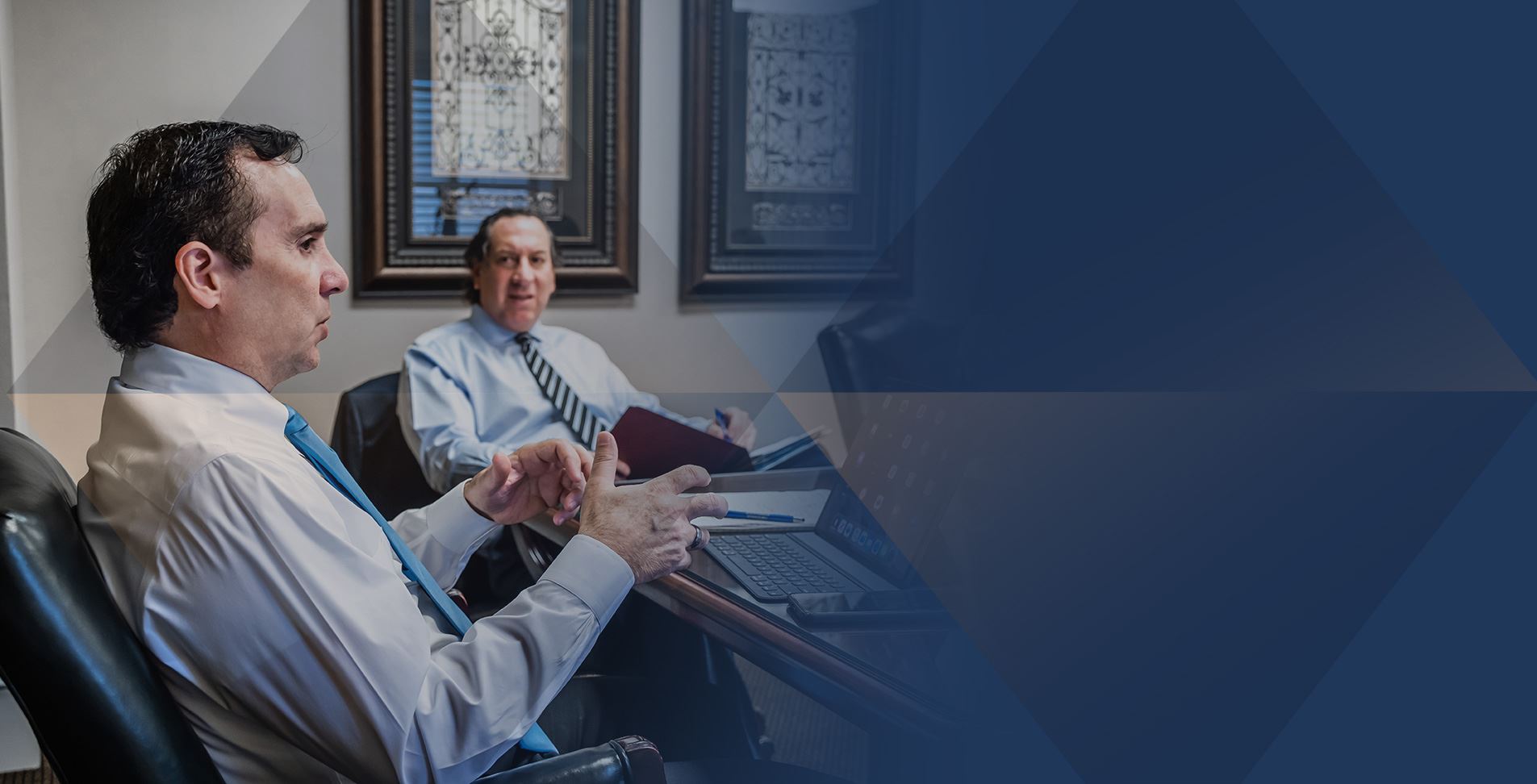 Our Testimonials
Hear From Clients Across the State of Florida
- Michelle M.

- Jeannette D.

- Gerard E.

- Evelyn B. R.

- Chuck S.