St Petersburg Personal Injury Attorneys
People suffer injuries every day because of circumstances they cannot control. Not all accidents result in personal injury or lead to civil lawsuits requiring the services of personal injury attorneys; there are circumstances surrounding your personal injury situation that determine whether you might have personal injury damage against the party who is to blame.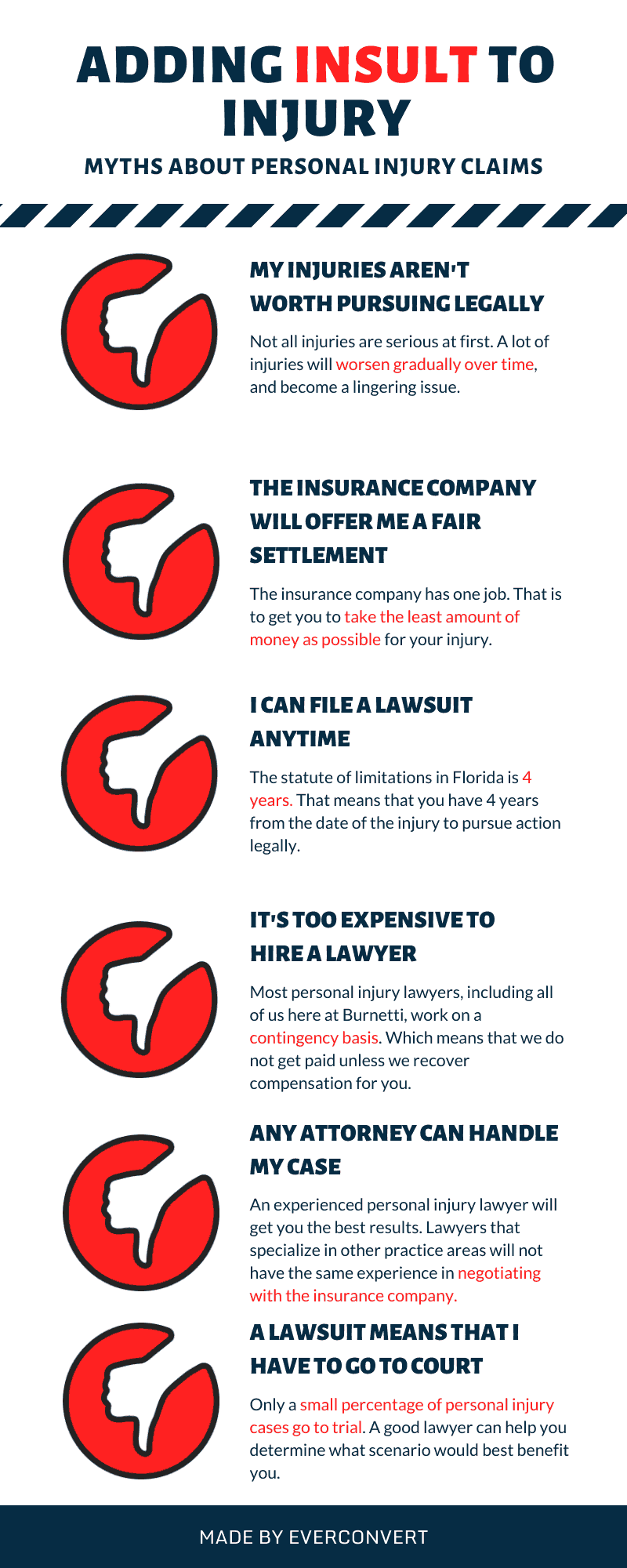 What Warrants Legal Action For A Personal Injury Claim?
For a personal injury claim to be viable, it must result from someone being hurt after the negligent, reckless, or intentional conduct of another individual or entity. Not every personal injury claim is worthy of a legal proceeding seeking to recover damages. In many situations, a claim is filed with the insurance company for the liable party (which might be multiple insurance companies). More often than not, these claims are settled before going to court. Sometimes you have to let a jury hear your case and decide what happens. A settlement with the help of our personal injury attorneys might take place at any time during the claims process, up until when the jury hears the case.
Personal Injury Attorneys Near Me – Claims Legal Grounds
Negligence leads to most personal injury claims. Negligence implies that a person or an employer was obligated to act in a set way to another party but failed in that duty. The breach resulted in injuries to the other party. This is the most common St Petersburg personal injury action, which covers multiple classes of claims.
Learn How Our Personal Injury Attorneys Can Get A Fair Settlement For Your Injury Claim
Personal injury claims could result from intentional misconduct by another person. This might happen when a person physically assaults another party or when someone is held against their will. If you suffer injuries because of these acts, most likely you have a viable personal injury case. Most other personal injury cases are filed as a result of liability only.
This is a legal theory that was enacted for activities of an ultra-hazardous nature, dog bite cases, and cases for product liability. In what is called a strict liability case, you don't have to prove the defendant acted in a manner that was intentional or negligent, it is enough to show you were injured as a result of animal or dog that is in question.
Legal Elements Of A Negligence Claim
A St Petersburg negligence claim has four specific legal elements. To have success with your claim, you must establish all four elements based upon a set preponderance of the evidence. This determines that all the facts you are presenting for your case are accurate. This is a smaller burden, which makes it easier to prove that on those television criminal cases. On television, they use the legal standard of "beyond a reasonable doubt." Using the "preponderance of evidence" benchmark, if it is 51% reasonable or likely that the facts presented in court are what accurately occurred, you have proven your case.
Duty Of Care In St Petersburg, Florida
You must establish the defendant had a duty of care that was obligated to you in order to have a successful claim. This duty is based on the relationships between the two parties. As an example: (1) employers have an obligation to employees, (2) business owners or operators have obligations to clients and customers, (3) higher learning institutions and education directors are obligated to students and staff, and (4) caregivers are obligated to those they are providing care for.
By Florida law, everyone has their own specific duties that must be met; for example, we do are obligated to drive safely when operating a vehicle. Everyone is obligated to everyone else to act in a fair manner and not cause injuries to others, whenever possible.
Breach Of Duty
After showing the defendant owed an obligation, you must prove by a preponderance of the evidence that the other party failed to meet those obligations. Breach examples involve evidence, which depends on the specific circumstances. As an example, employers owe their employees an obligation of safe working conditions while doing their job. If a worker is hurt because a saw they must use didn't get properly maintained, the employer has failed this duty.
Another example is that caregivers owe the elderly and disabled they care for the duty of care while providing their services. If you have an elderly or disabled relative in a rehab center who gets bedsores because the caregivers didn't properly turn them enough, the duty of care has been broken.
Causation
After showing the other party owed an obligation for care and that duty was broken, you prove the negligent actions of the other party resulted in your injuries. You must be ready to show you wouldn't have suffered the injuries if the other party didn't act in a negligent manner.
Damages
The last element of a personal injury claim is showing you suffered damages. You must have actual injuries and losses to legally recover damages after all the three primary parts of the case have been proven. This means you must establish either bodily injury or property damage resulted so you can be compensated for the negligent acts of the other party.
Personal Injury Lawsuits & Strict Liability
There are some people who are expected to be more careful and attentive to public safety needs. This plays a role in liability for many St Petersburg personal injury cases. Someone or some company subjected to stricter liability might have much tougher legal standards to fight. You must prove the person or company did act in a negligent or careless manner in order to succeed with your claim. A prime example of the strict liability customary in St Petersburg is Florida's dog bite laws. If a resident's dog bites someone, the dog owner is responsible for the dog's actions, so he or she is responsible for any damages suffered by the victim.
Most Common Kinds Of Personal Injury Claims
Car crashes are the most common personal injury claim in existence; it so common we've devoted a complete section of this St Petersburg Guide to them. There are several different kinds of personal injury claims filed by those in St Petersburg, Florida with the more common ones listed below.
Premises Liability Claims
Premises liability claims result because the property owner, who owes an obligation of care to those visiting their premises, breach that duty and a visitor is hurt. A premises liability claim could result because a customer slips and falls in a store or because of a guest falling down steps while visiting a friend's home. Usually, homeowners can't be held accountable for injuries that were caused by conditions unknown to them on their property if they had no reason to be aware of these problems. Anyone visiting someone else's property must exercise due care for his or her own safety.
The particular duty of care owed by property owners is dependent on the conditions regarding why the injured party enters their property. There are three different classes of guests, business invitees, licensees, and trespassers. Every visitor class has a different duty of care in St Petersburg.
Business Invitees
The highest-ranking duty of care is for property owners goes to those who are invited on the premises for business, or those who go on the grounds to conduct business. This includes those operating restaurants, a retail store, or even a service station. This classification includes repairmen and other workers invited to your home to perform various work duties.
When it involves business invitations, property owners must make sure the property is safe. Owners should fix any dangers on the property or post proper warnings about the danger. Property owners should check their property regularly for any risky conditions. This might include spilled beverages on the floor of a store, merchandise blocking a gate, and many other situations.
Licensees
The next highest duty of care is owed to guests. This includes friends invited into the house of the owner for a dinner party and even to guests who are not invited, such as a neighbor or friend who drops in without notice. The duty owed to these individuals is to keep the premises in a safe manner and to fix any safety violations. This duty requires homeowners to warn guests of any unsafe conditions on the property.
Trespassers
A trespasser doesn't have permission to be there, but the owner still has restricted duty to keep any intentional and reckless injury from happening to the trespasser. The owner cannot inflict intentional injury to a trespasser without some kind of civil liability. Homeowners even have an obligation to warn discovered violators of any dangers that might not be noticed with regular observation.
Children Are Owed Elevated Duty Of Care
Homeowners must exercise special care to protect young children on their property regardless of whether they were invited. Homeowners must take steps to protect children from conditions on their property, especially in places that might draw children in such as swimming pools, trampolines, backyard playsets, and other conditions which might be tempting. Reasonable steps should be taken by homeowners to get remove any dangerous conditions or keep children out of those areas. Swimming pools, in particular, should have a tall fence that children cannot get through or over.
Examples Of Premises Liability Cases
As a property owner, you have the responsibility to keep your premises free from threats. This duty might also apply to the inside of your home as well as the property exterior. This means a homeowner needs to keep the boundaries safe as well as the outside areas, such as the parking lot and sidewalk in front of any restaurant or business in operation. Any food or drink served to guests must be safe. The leader of premises liability claims is the "slip-and-fall" cases, where somebody is injured because they slip and fall on something on the ground or floor of your property.
Premises liability claims also result from bumpy and broken sidewalks or stairs, broken or missing handrails or staircases, improper lighting, water puddling or slippery floor conditions, and even doors or windows that malfunction. Dog bites are also considered a dangerous condition on the private property, resulting in lawsuits for premises liability. Anytime a person has been injured on the property of another as the result of a potentially unsafe condition, that person should choose from a list of qualified St Petersburg personal injury attorneys and consult with one of them.
Medical Malpractice Claims
Another negligence claim that arises with relative frequency in St Petersburg Florida involves defendants in the healthcare industry. Medical malpractice lawsuits, while a specialized kind of personal injury claim, have specific requirements that involve presenting evidence.
These cases require an injured party to prove that a doctor, nurse, or other healthcare provider fell below the accepted professional standard of care. Medical malpractice cases, therefore, require expert testimony regarding the proper standard of care in any given case, and there are many attorneys that specialize in solely medical malpractice law, as it is an in-depth area of law.
Workplace Injury Claims
Another kind of personal injury claim results from injuries in the workplace. This area of law intersects with workers' compensation law and is preempted in cases of just plain negligence. In cases involving intentional conduct by the employer, however, or in cases where the injured party was not an employee but an independent contractor, personal injury claims can be brought.
Product Liability Claims
Claims that result from injuries caused by defective products are another common kind of personal injury case. Dependent upon the case's facts, it might be able to proceed under a negligence theory or based on a strict liability theory, but most of these claims are based on some kind of product defect. Design defects happen when the design of the product leads to the injury. A manufacturing defect happens when a product does not conform to the usage of the product and leads to an injury. A warning defect happens when a product does not display proper warning labels and doesn't adequately advise customers about the risks that are associated with using this particular product.
Wrongful Death Claims
The last is of personal injury claims are those brought after a loss of life resulting from the negligent or intentional actions of another. Wrongful death cases are brought pursuant to the Florida Wrongful Death Act, and there are actually two categories of damages that can be awarded pursuant to this statute. The first category covers damages that the decedent's survivors are entitled to recover. Survivors are those close family members defined in the statute entitled to damages for the death of a loved one. A close family usually includes the spouse, surviving parents, and any children. The second category of damages is those recoverable by the decedent's estate. The estate cannot recover as many categories of damages as the survivors, as there is no compensation available for pain and suffering.
Comparative Fault
If you were partly at fault for an accident, you might be entitled to recover some damages. Florida follows a "comparative fault rule," which means that the compensation you are entitled to receive is reduced by the same percentage that you were at fault for in the accident. For example, imagine that you were running through a parking zone, then twisted your leg in an open manhole. If the court determines you were 40% to blame for your injuries, then your injury claim settlement is going to be reduced by 40%. If your damages total $100,000, you might be able to collect $60,000. Courts in Florida are duty-bound to follow this decree for personal injury cases, and insurance claims adjusters are responsive to this rule further and often bring this up when you are in negotiation settlements.
How To Determine If A Personal Injury Attorney Should Be Contacted
Personal injury cases can be difficult and take years to settle. Some cases are settled early on, but to protect yourself look for qualified personal injury attorneys and entrust your claim with a personal injury attorney if you've been hurt in any way. Experienced personal injury attorneys will know the viability of your claim and the relative probability of its success. He or she might offer an estimated value of your personal injury. Personal injury attorneys are effective in negotiating with insurance companies of liable parties usually improves your chances of recovering damages significantly.
What To Do After Suffering Injuries?
Be sure to document your injuries right away if you were hurt in an accident because of someone's negligence or intentional conduct. Get immediate medical because the faster medical treatment is sought-after the better your chances for a full recovery. Keep copies of all documents associated with your accident and your injuries, including your medical records and all employment records showing lost wages.
Gather contact information from witnesses at the scene of the injury and take photos of the scene this helps to provide details for personal injury attorneys to help their clients win larger claims. Personal injury attorneys can prove to be invaluable if you suffered an accident that was not your fault. This increases your chances of getting a bigger settlement.

What Sets Us Apart?
Reasons to Trust Burnetti, P.A. with Your Case
A Proven Record of Results

We have recovered millions of dollars for our clients, including many multi-million-dollar verdicts and settlements.

A Culture of Customer Service

We treat all of our clients like family, requiring regular calls to clients in an effort to promote the best possible client experience.

Decades of Unwavering Service

Our firm has proudly served injured people throughout the state of Florida for over 25 years, and we're just getting started.

A Network of Support

We help clients find doctors, deal with insurance companies and recover compensation for medical bills and lost wages.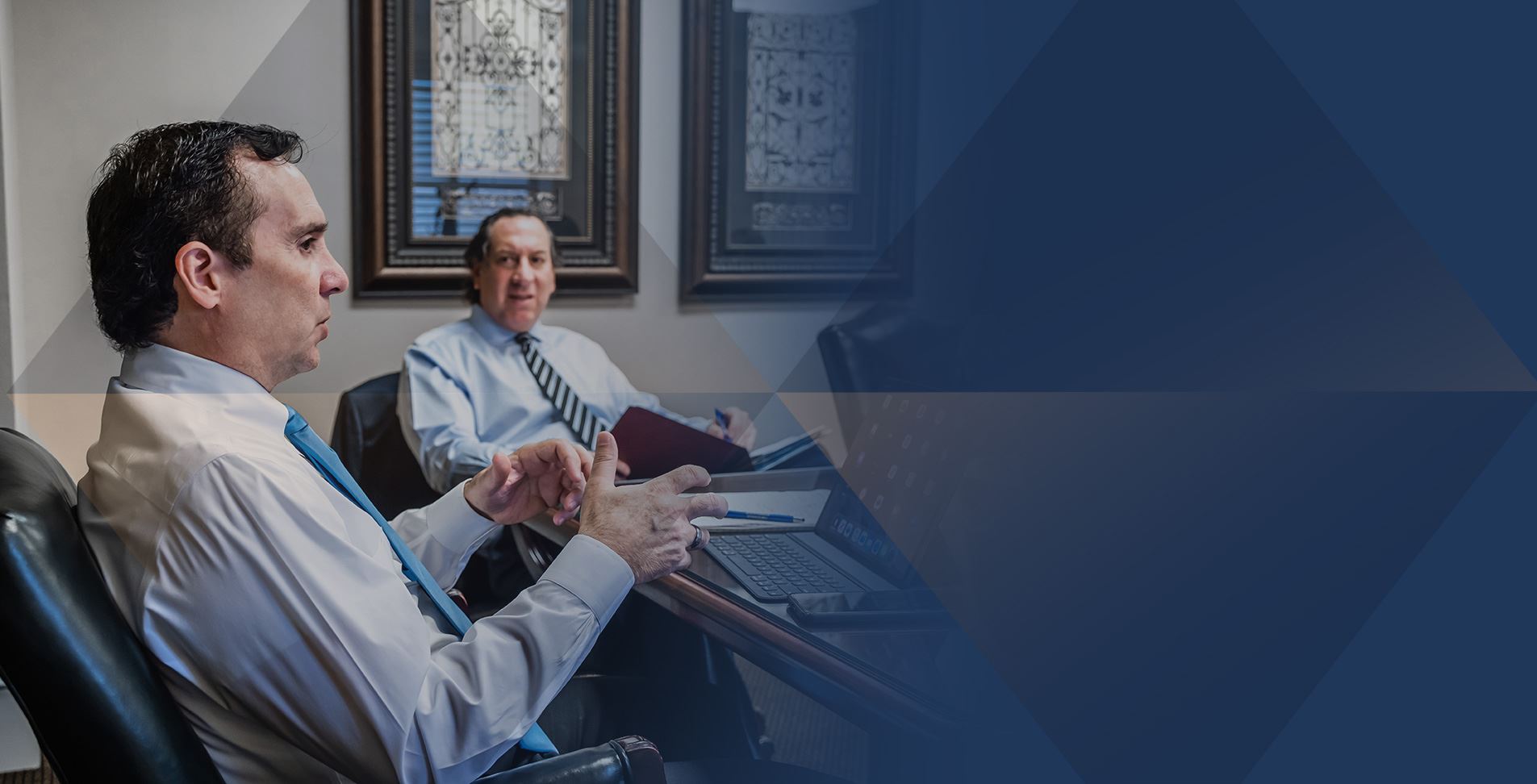 Our Testimonials
Hear From Clients Across the State of Florida
- Michelle M.

- Jeannette D.

- Gerard E.

- Evelyn B. R.

- Chuck S.